Commercial marine operators in the upper South Island will have better access to liferaft and safety gear supply and servicing with the opening of the Hutchwilco Group's new service centre in Nelson in June.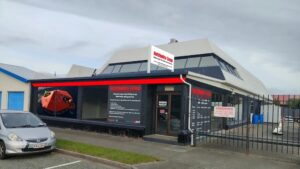 Hutchwilco operations manager Bernard Orme says over the past decade the company has been expanding the commercial side of its business. As well as being a leading wholesale distributor in the lifejacket, marine safety and watersports markets in New Zealand, the Hutchwilco Group also operates three Auckland-based businesses: Wilco Marine Services, which focuses on life raft and safety solutions for superyachts and recreational boats; Denray Marine Services, which specialises in liferaft, lifeboat and lifeboat davit supply and service for the commercial shipping market; and Actron Marine, which supplies and installs marine fire safety solutions.
"Through these businesses we are able to service a large sector of the industry, including servicing the safety needs of the Cook Strait ferries, but we wanted to take the opportunity to better serve South Island customers," he says. "There is a lot of commercial marine activity in this area, and there's been a need for some time to have a dedicated base there."
The Hutchwilco Group South Island Service Centre, located at 225 Akersten St, Port Nelson, is well placed to service the safety needs of the large commercial fishing fleet operating from there, as well as other South Island customers. A building has been fitted out for liferaft servicing, and will be able to hold stock of and therefore more easily supply rafts and other safety equipment from the brands Hutchwilco represents, including Haf, Viking, Ocean Safety and Jonbuoy.
"Especially with recent issues around freighting, including dangerous goods such as flares, it's going to be much easier to have a base in that area, so equipment can be supplied and fitted to commercial vessels more quickly and efficiently," Orme says. "We're looking forward to being able to provide a really high level of service and convenience for commercial operators who need to be out on the water and operating safely."
For more information about Hutchwilco visit www.hutchwilco.co.nz