Stejcraft's owner Tim Catanese spent two years in the United States, immersing himself in American boat culture with the aim of learning as much as he could about sterndrive and bowrider boats.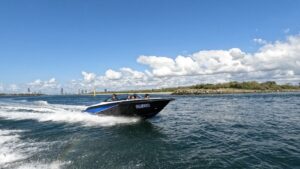 The result? Luxury American style sterndrive boats built with Australian sturdiness.
Stejcraft's newest sterndrive is the 6.4m long SS64 Sports Bowrider. It's described as a sports car on water, which is hardly surprising given it's powered by the Mercury 4.5L V6 MerCruiser.
"We're building high-end bowriders like no one else in Australia," Tim said.
"This boat with the 200hp or 250hp MerCruiser creates a perfect package. It's propelled by the Mercury Revolution 4 stainless steel propellor, so you get lots of hull lift.
"The top end of the boat is very fast – around 90km/h. Because the sterndrive is a bit heavier it's pushed low into the keel of the boat and it's actually become more balanced. You could take your hands off the wheel and still have balance."
Speed isn't the only factor giving the MerCruiser an advantage.
Mercury's V6 engine delivers V8 performance in a compact, lightweight package – setting a modern standard for engine power to weight ratio.
Redefined electric throttle and the Adaptive Speed Control (ASC) makes holding RPM easier and safer, while creating a sportier and more exhilarating driving experience.
The MerCruiser's Electric Multi-Port Fuel Injection (EFI) delivers the exact amount of fuel required for every driving condition and ensures reliable starts, increased fuel efficiency and better throttle response.
The boat package is also offered with Mercury outboards, but Tim thinks that the sterndrive is the all-round winner for this style of boat.
"It's such a versatile combination, the boat and engine are sturdy enough that you can take it into deep offshore conditions – but it's equally as comfortable on rivers or lakes for water sports," Tim said.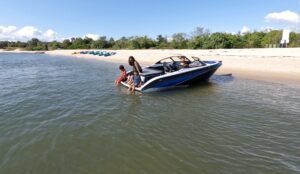 "Families love the safety of the inboard. You have so much room to walk around and dive off the big platform without the risk of an outboard sticking out."
The SS64 hasn't just been designed with peak performance in mind – Stejcraft has also taken every step to ensure a luxurious finish on the boat.
The interior of the boat is finished with modern dashboard technology, high end upholstery and H2O flooring laid in house.
Completing the high-end look, the boat's look is refined with a laser cut dash, floors and all acrylic parts. It's safe to say, this isn't your usual hose-down fishing boat.
Mercury's Director of Sales, David Meehan says it's particularly exciting to have a sterndrive that's Australian made.
"The American sterndrives dominated the Australian market for sales and imports. To have the SS64 and the other Stejcraft inboard bowriders in our market, and made to suit Australian boating conditions, is fantastic," David said.
"Keeping families and ease of boating in mind, the SS64 is also a legal width for trailer towing -something that isn't always the case with sterndrives.
"We're keen to see what people will get up to when they drive this boat. It promises to be a very fun experience."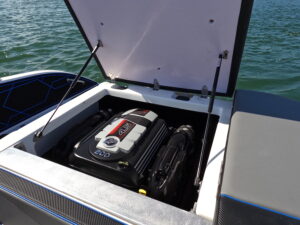 For more information about Mercury Marine visit www.mercurymarine.com