Rivergate Marina and Shipyard Director Judy Brinsmead has been awarded a Member (AM) of the Order of Australia as part of the Queen's Birthday 2022 Honours List for her significant contribution to charity and business.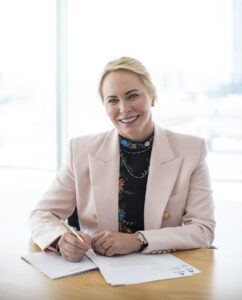 Ms Brinsmead has been instrumental in creating a stronger and more sustainable marine industry in Australia, working tirelessly to create a world-class marine facility and attract international superyachts to Queensland for tourism and refit purposes.
As a long-term philanthropist, Ms Brinsmead also supports an array of charitable causes, which has ultimately led to the launch of the Brinsmead Hill Family Foundation in 2020.
Co-founded with her son and fellow Rivergate Director, Tom Hill, Ms Brinsmead said the Foundation helped Australians thrive by providing vital funding to a range of charitable partners including The Salvation Army, Bond University and Beyond Blue.
"I am delighted and proud to have been acknowledged in the Queen's Birthday 2022 Honours List with appointment as a Member of the Order of Australia for services to charitable organisations and business," said Ms Brinsmead.
"The wonderful thing about receiving an honour like this is the opportunity to acknowledge those I have the fortune to work alongside while building great businesses with a heart, and those who inspire me to live every day with purpose.
"I was taught the value of community from a very young age and my businesses, and our Foundation has dedicated significant funds and staff time to local communities.
"It is a privilege to be a long-term supporter of organisations like The Salvation Army which do incredible work to support vulnerable people in need."
In 2001, the Queensland Government approached Ms Brinsmead and Bob Hill to help relocate marine businesses in Bulimba and establish a new marine industry precinct on the Brisbane River at Murarrie after their successful operation of the Byron Shipyard.
Ms Brinsmead and Mr Hill purchased a 15.15ha site from the State Government and developed the site to include a Marine Industrial Park, which includes Rivergate Marina and Shipyard.
Since commencing operations in 2006, Ms Brinsmead and her team have created Australia's premier superyacht refit destination and been instrumental in putting Queensland and Brisbane on the map for superyacht owners around the world.
Plans are now well advanced for a major expansion of Rivergate in line with this reputational growth and increasing demand for services to accommodate larger superyachts, more commercial vessels and several classes of Defence and Border Force vessels.
The proposed $200 million expansion would be the catalyst for a surge in superyacht visitation to Australia and the wider Pacific region with new capacity to lift vessels of up to 3,000 tonnes and 90 metres for vital inspections, maintenance, repairs and refits. Brisbane City Council recently approved Rivergate's expansion, which is now shovel ready and waiting on government funding support to get under way.
Outside of her Rivergate and charitable commitments, Ms Brinsmead's other businesses include ADCO Constructions, Arklife, and Tropical Fruit World in northern NSW.
To find out more about Rivergate's expansion plans, go to www.rivergatesuperyachts.com.au