NAIDOC Week celebrates the history, culture and achievements of Aboriginal and Torres Strait Islander peoples. This year the theme of NAIDOC Week is Get Up! Stand Up! Show Up!
The following story relates to the depicted artwork and is in the words of Marine Rescue Lake Macquarie volunteer and Western Bunjalung woman, Leanda Guy.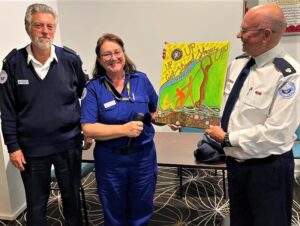 My name is Leanda Guy and I am a descendant of the Western Bunjalung. I joined Marine Rescue Lake Macquarie in January this year as a general member prepared to undertake administration or fundraising duties, and have completed the foundation training for sections of the radio and boat crew stream as well.
My Great Uncle Pat Bancroft left me his land at Lionsville known as The Old School Site. Uncle Pat had his caravan here and used to stay when he was on his land. This is a very special site and I am very privileged to be the current custodian of this land, and you can learn more about him in the book Remembering Lionsville by Bronwyn Bancroft.
Bronwyn is my cousin and has written many books and given many recounts of the history of our family. One can be read in the book Speaking From The Heart edited by Sally Morgan, Tjalaminu Mia and Blaze Kwayamullina.
The book Remembering Lionsville is actually about my mother's home. She is in the book, as cousin Tain. Lionsville was where I spent my holidays when growing up. I learnt many things from my grandmother and I was unaware at the time just how special this was. I loved collecting rocks, plants and learning about the plants and animals with my grandparents and extended family. Skin colour was never an issue as we were all family.
When I read the theme for NAIDOC Week this year the picture formed immediately in my mind, like a lightbulb in the comics. I grabbed my sketch book and it just flowed onto the page. The figures formed and coalesced onto the canvas. As I added colour to the work it just came together. Initially I painted it for the NAIDOC Week Poster Competition but it took on another life and the inclusion of the Marine Rescue checks and colours just fitted right in along with the representation of Malangbula.
Malangbula is the story of the Petrified women of Swansea Heads. Miromaa Aboriginal and Tech Centre records the story, and here is an abridged version.
Two Aboriginal women had a problem with an Awabakal Warrior. The reason was never known, however for their sins they were turned into stone on the headland and the women became protectors of the nearby burial site of their ancestors.
If the sisters saw danger they would return to human form and warn their people, and appropriately the Marine Rescue Lake Macquarie unit Radio Base now resides on this headland keeping watch for danger, warning our boat crews when those in trouble need our help.
In this the year of reconciliation, the parallel objectives were too strong to ignore. The base of the painting depicts the headland and has two bars to represent the petrified women with the figures above all working together, all of different colours and all joined in their mission.
NAIDOC Week has been in the making since the 1920s. I believe that many problems Australian people have with Indigenous People and culture comes from not understanding the actual history, true stories and importance of culture, and as NAIDOC Week garners more publicity and coverage, more Australians are learning and understanding.
My husband and I joined Marine Rescue at the same time and he is now part of the boat crews. I am currently working in conjunction with Jim Stringfellow and am preparing to move into the Administration role as the Radio Club Coordinator.
I have been visiting local fishing clubs and water sport groups delivering talks on the value of becoming a member of the Radio Club and promoting our Boat Licence courses and membership. I am also an avid photographer and have my camera at the ready to catch those moments for the Marine Rescue Lake Macquarie Facebook Page.
Outside of Marine Rescue NSW I am the Junior Coordinator for Teralba Lakesiders Fishing Club and run a free entry, catch and release format Junior Fishing Tournament each year. Our juniors have raised over $2000 for Marine Rescue before I joined and also donated a Tailfin to the Lake Macquarie Unit.
The juniors are again raising funds this year for Marine Rescue Lake Macquarie during their upcoming tournament being held over the 27th and 28th August.
I am an avid Angler along with my husband Ian and we compete in two clubs, Wangi RSL and Teralba Lakesiders. I have just a few trophies….. and records within both clubs, and I have been fishing and gathering bait since my grandmother and family taught me while growing up.
It always seems to come back to the heritage. Many years ago someone asked me how much Aboriginal did I have in me? My answer, was my left leg! I have a large birthmark on that leg which I used to cover with long socks as a young girl, but now I wear proudly.
So even though the years have taught me it is not how much but how you understand who you are and your self-worth, your history and what is valuable to you.
I am a proud Bunjalung woman who is more than happy to Get Up, Stand Up and Show Up!
Join me in celebrating NAIDOC Week.