To increase consumer brand awareness and develop its global market share, Elco Motor Yachts has hired Martin Flory Group. The PR firm will promote the company's line of electric inboard and outboard boat motors and share its corporate news.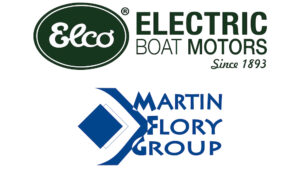 Beginning at the World's Columbian Exposition of 1893 and helping to win two world wars, Elco has pioneered battery-driven electric boats for more than 125 years. Today, the company is leading the charge by manufacturing in the USA a line of technologically advanced inboard motors that replace internal combustion engines from 6 hp to 250 hp, outboards from 5 hp to 50 hp and hybrid systems. Additionally, it still builds classic launches ranging in length from 5.8m to 11m. Without fumes, CO2 emissions and the potential for spilling fuel and oil into the water, clean Elco-powered boats are ideal for recreational and commercial use. The company's website is www.elcomotoryachts.com.
"Once regarded as a sidenote to boating, marine electric propulsion is advancing at breathtaking speed and Elco is setting the pace," said Martin Flory Group general manager Kelly Flory. "With a lineage of innovation and technology, they're well-poised to continue to introduce fast, light and reliable battery-driven propulsion solutions with rock-solid performance."
Celebrating its 60th anniversary, Martin Flory Group has represented its global clients in the recreational and commercial marine, outdoors and RV markets. It works with editors and writers worldwide to help companies promote their products through widespread editorial exposure.
Elco Motor Yachts dealer opportunities are available locally. For distribution enquiries please contact Elco directly at
More information is at www.silversprings.com/glass-bottom-boats.