Fires are one of the most dreadful hazards for yachts and marinas, and here is why:
Fire is scary and might create panic in passengers and crew
Most yachts today are in FRP and when burning produce toxic fumes and spread rapidly
In harbours, fire can easily spread to nearby boats
Fire damages can be extremely costly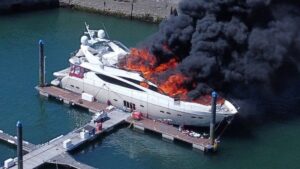 In recent years we have witnessed an escalating number of yacht fires occurring worldwide. Why do suddenly fires seem to become so common? I believe there are several factors. Firstly of course is the development of communication. Whilst in the past fires might have remained a local issue unknown to the rest of the world, today with the advent of social media these hazards quickly make the buzz on the internet. Secondly is the tremendous growth of the boating market; it has probably doubled in the last thirty years and there are increasing numbers of marinas, packed tightly with boats side by side. Thirdly, in the past most crews came from the sea-trade and had professional training. But nowadays, while super yacht crews usually have serious education, the high demand means that many small boat owners are amateur boaters; and new crews are stepping straight into the industry without real professional background, and may lack training and systematic safety reflexes.
Fires are a terrible threat for marinas and even those with excellent facilities are at risk. So marinas need to be prepared and be fitted with proper safety equipment in accordance with laws and guidelines. In addition to standard fire stations, professional marinas should also consider owning an aluminum work boat fitted with a foam fire pump and stainless grapnel and chain (to tow boats if needed) as well as a dedicated fire golf cart which is the only way to access any point in the marina very quickly. That allows attending shortly from both shore and water to contain a fire until the fire brigade arrives. Fires ought to be contained within minutes, especially with FRP boats. Once FRP catches fire it is extremely difficult to handle and it spreads very fast! It is equally important to carry out frequent fire drills, and to organize training sessions with the local fire department. Large marinas should have 24H watch, and patrols through the premises even at night. This will also avoid other accidents such as boats sinking during the night.
Despite all precautions the risks remain very high, even with proper equipment and training. The problem is that fires nearly always occur on boats, not on the docks, and usually due to lack of knowledge or negligence from the crew, as well as lack of maintenance. Many in-harbor fires occur when nobody is on board. In such case it is frequently due to power lines, shore power supply or batteries failure. Personally, I only saw one case of small shore fire, in a garbage bin. All other incidences were always onboard a yacht.
So what can marinas do about it? Education and prevention are the keys. And these should not be limited to marina staff, but instead involve yachts crews.
For example there are a lot of procedures for preparing a trip, starting engines etc., but actually very little for safety checks or procedures for leaving a boat after a day's work. While on leave-aboard yachts fires are usually accidental and happen in the galley or are caused by gas leaks, on day-boats the day crew should be given a step-off checklist. Additionally all boats should be equipped with sensors and detectors for temperature, gas, etc… Usually on medium size boats these are autonomous devices and crews/owners often forget to change the batteries as required or check regularly to make sure these are working properly.
Training can be done by organizing quarterly meetings and events for crews; for example a morning meeting with some reminders about the marina services and regulations, followed by some safety advice and training and an afternoon of fun events. Crews will love it if you close the day with a buffet or a crew party. Moreover this builds up team spirit and enhances communication between the yacht club and the members.
Share your knowledge with boat owners (and they might as well be happy to share some of the crew training costs). Keep in mind that if a boat is damaged or lost, the legal responsibility is on the captain but the financial burden is on the owner. Insurance companies cover only part of the losses.
Godfrey Zwygart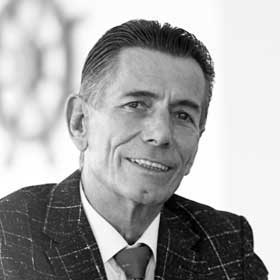 Frenchman Godfrey Zwygart is a former captain and chief engineer who spent decades in Taiwan, Hong Kong and China. Originally trained in the French Naval Academy he served on both navy and merchant ships and as captain on mega yachts. He moved to Asia in the 80's as a boat builder in Taiwan, and now specializes in development, management and marketing of world class international yacht marinas and yacht clubs.
In 2010 Zwygart moved to Sanya to build and act as general manager operations of the multi-awards winning Sanya Serenity Marina.
The 5 gold anchors platinum marina has been a host twice for the Volvo Ocean Race, as well as the Clipper Race and the youth world sailing championships.
Zwygart then established Marevisio Co Limited, aiming to help marinas and super yachts brands in the Asian region through management consultancy, training, and services. Zwygart has published two books as well as a large number of articles in Chinese and he is a prominent figure in China's yachting and marine industry.
As foreign expert for the Hainan government, he collaborates with the local government on the development of the Hainan free trade port.
Those wishing to contact Godfrey can do so on +86 188 0899 8617 or email at
Global Marine Business Advisors (GMBA) and its associated website www.gmba.blue are not registered legal entities. GMBA is a network of independent marine industry advisors. In all articles the opinions expressed are those of the author and does not necessarily reflect those of GMBA.
Those wishing to contact GMBA in Australia can do so through MaryAnne Edwards or call +61 412 916 036