Spanish strategist Paula Barceló made her SailGP racing debut in San Francisco in March but it was in Bermuda where she caught the attention of fans.
With grinder Joan Cardona recovering from a hand injury, Barceló stepped into the grinder role, becoming the first woman to do so in a six person crew configuration. Ahead of the Great Britain Sail Grand Prix | Plymouth, we catch up with Barceló about how she started sailing and her route to making history with SailGP.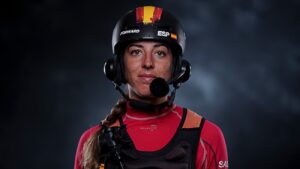 Hailing from the sailing mecca of Palma de Mallorca, 26-year-old Barceló hit the water young, following in the footsteps of a shared family passion for sailing. At age seven, she moved into the Optimist but struggled with confidence early on. "I used to cry because I was very thin and I had a hard time with the wind," she says. But 'little by little', her passion and confidence began to 'evolve'. "You stop going to your classmates' birthdays or you wake up early to study so that you can go sailing afterwards,' she says. "You start liking competition and you get hooked".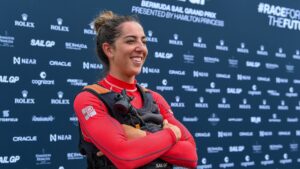 She graduated from the Optimists to the 420 youth racing class before moving into the Olympic 470 class, in which she now competes with Tamara Echegoyen. The two clinched a career highlight in 2020, winning the 49FX World Championship in Geelong after a challenging campaign. "We had lots of stuff to improve – we were doing things well, but the results weren't coming," she says. "We were persistent and never gave up." Winning in Geelong came just two months after the pair were forced to retire from the 2019 World Championship in Auckland after Barceló broke a bone in her foot. "After going through that, we managed to get out in front in Geelong, which gave us the pass to the 2020 Tokyo Olympics," she says. "It was very emotional and special."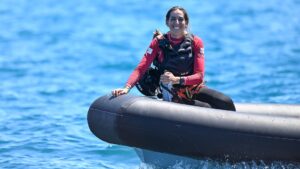 It was during her campaign for the 2020 Olympics that Barceló first heard about SailGP's Women's Pathway Program, but with her focus set firmly on the Tokyo, she decided 'it was not the moment'. But once the Olympics were over, (with the pair picking up a fourth place finish), Barceló attended the Spain Sail Grand Prix in Cádiz in October as a spectator. "I went just to watch the event and the first thing I thought was that I wanted to be up there on the boat," she says. "I could see the guys being very motivated with a big attitude, as if they were really living the dream and that's contagious."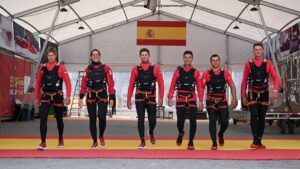 Barceló didn't have to wait long for her chance. Soon after the event, she received a phone call from Spain Driver Jordi Xammar asking her to join the team for Season 3. Barceló was 'delighted' and raced for the first time in San Francisco at the final event of Season 2. Barceló was reconfirmed on the crew roster for Season 3 in the role of strategist.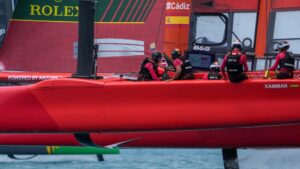 But just a few days before the event, Spain grinder Joan Cardona fell from his road bike, breaking his hand. In a last minute decision, taking into account the light wind conditions, Xammar swapped Cardona and Barceló's roles on board. Cardona would serve as tactician while Barceló became the first woman to step into the grinder role in a six-person crew. Barceló admits she was 'fearful' of taking on the position but excited to 'break some barriers'. "I would've never thought I was going to do a regatta as a grinder," she says, 'it is the position for which I was least prepared.'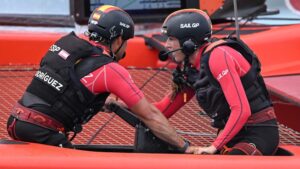 Ahead of racing, Barceló curtailed training to maximise her strength and energy on board. "In the moment, the team are putting full confidence in you and you have nothing left to do but go with it." After the event, SailGP's other female athletes were quick to show their appreciation. "All of the other women were coming up to me afterwards and telling me they were feeling very proud," she says. "It felt good because, in the end, you are breaking down barriers." Barceló raced with the team again in Chicago, returning to her strategist role of 'reading the course, the lay lines and the fleet traffic'.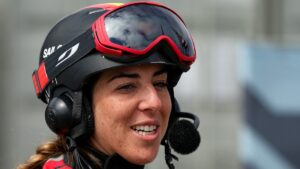 While Barceló hopes she 'can stay with SailGP for a long time', her childhood rule that 'if you want to go sailing, you have to have good grades' is still holding true. Barceló is now in her fifth and final year of medical school and is planning a second Olympic campaign for Paris 2024 after 2020's fourth place finish 'didn't taste good enough'. While her long-term professional ambition has always been to be a doctor, Barceló says she won't be tied down. "Life takes many turns,"she says. "After Tokyo, I was saying I was going to study medicine and that's all. Now I am in another Olympic campaign and I am sailing at SailGP – so you never know."