Nautilus Marine Insurance is proud to announce a new, multi-year partnership with the internationally acclaimed Hamilton Island Race Week.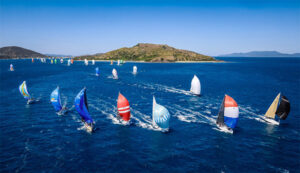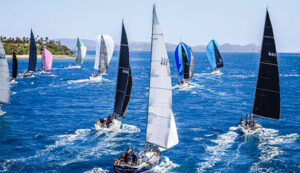 Race Week dates are 20-27 August 2022 and anticipation is high for this year's event. It returns after a two year hiatus due to COVID-19 restrictions, and the 2022 entrants line-up is easily one of the regatta's most impressive fleets to date.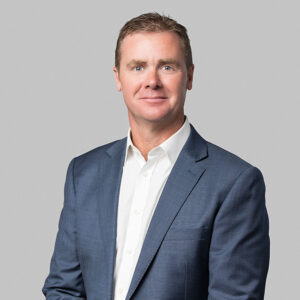 In announcing the new partnership Lyndon Turner, CEO of Nautilus Marine Insurance, said, "Nautilus Marine Insurance are incredibly excited and proud to be partnering with Hamilton Island Race Week. This is an ideal way to show our yacht insurance expertise and our ongoing support of the whole yachting community. There is a great alignment between this event and Nautilus Marine Insurance. We share the similar values of expertise, quality, passion and celebrating sailing, when racing or relaxing! Through this partnership we want to celebrate the passion of the yachties who participate, and recognise the dedication put into preparing for such an event.
At Nautilus Marine Insurance, we are similarly passionate and take great pride in our marine insurance expertise and our commitment to supporting boat owners with quality coverage and strength of security."
Hamilton Island CEO Peter Brulisauer commented, "We are delighted to partner with Nautilus Marine Insurance as we welcome back the yachting community to Hamilton Island and Australia's largest offshore keelboat regatta. We have been overwhelmed by the response from the sailing community and spectators alike and look forward to welcoming them back for an amazing week of racing and exciting onshore events."
About Hamilton Island Race Week
Hamilton Island Race Week is one of Australia's favourite yachting events and a firm fixture on the international sailing calendar. Every August, spectators and sailors from around the globe sail to Hamilton Island in the Great Barrier Reef for what is recognised as Australia's largest offshore keelboat regatta.
The fleet for this year's race is at capacity and sailors from around the country and overseas are eagerly awaiting the huge reunion following a three year wait.
The 36th edition of Hamilton Island Race Week will be staged from August 20-27, when 224 boats and close to 2000 sailors, their family and friends, will gather at the jewel of the Whitsundays and enjoy the convivial atmosphere and unique camaraderie of the on-water and on-shore carnival.
Hamilton Island Enterprise Limited ACN 009 946 909.
Visit www.hamiltonislandraceweek.com.au
About Nautilus Marine Insurance
NM Insurance Pty Ltd t/as Nautilus Marine Insurance (ABN 34 100 633 038, AFSL 227186) acts under a binding authority for underwriting and claims as agent for the insurer of the products, Zurich Australia Insurance Limited (ABN 13 000 296 640, AFSL 232507). Before making a decision to purchase a product or continue to hold a product we recommend you consider whether it is appropriate for your circumstances and read the relevant Target Market Determination, Product Disclosure Statement / Policy Wording, available at www.nautilusinsurance.com.au
Nautilus Marine Insurance are a leading provider of insurance solutions for recreational vessels and marine business assets across Australia and New Zealand, protecting over 45,000 vessel owners and marine industry members.
For over 17 years, Nautilus Marine Insurance has been a specialist supplier of insurance for pleasurecraft and marine business assets and liability insurance. Nautilus Marine Insurance provide coverage for pleasure craft of all sizes, ranging from sailing dinghies and PWCs through to yachts, runabouts and luxury motor yachts as well as commercially operated boats and marine businesses.
Through its Industry Lines division Nautilus Marine Insurance also specialises in providing tailored business insurance for clients servicing the recreational boating market including marina operators and owners, yacht clubs and boat clubs, boat dealerships and most marine trades including boat repairers and boat service providers. Thousands of professional insurance advisers and brokers choose to work with Nautilus Marine Insurance. These insurance experts trust the breadth of Nautilus Marine's products and claims support to recommend our products and services to their clients.
Nautilus Marine Insurance has a staff of over 70 passionate insurance experts and offices across Australia and New Zealand. Nautilus Marine Insurance is a business name of NM Insurance Pty Ltd ABN 34 100 633 038, AFSL 227186.
Visit www.nautilusinsurance.com.au