Kiwi boaties will soon have access to a new range of powerboats produced by one of Europe's most prestigious manufacturers, with Auckland brokers Your Marine becoming the New Zealand sole agency for Rodman Boats. The first boats, scheduled to arrive in October, were quickly snapped up by local buyers, and more are on the way.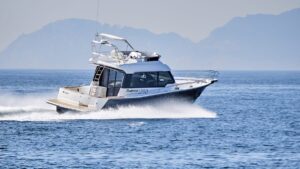 The team at Your Marine was attracted to the marque after seeing Rodman boats on display at the Paris Boat Show in 2019. Rodman has a long history of commercial shipbuilding, which has now carried over into the leisure market, creating boats which offer durability, reliability and a definite European flair.
Founded in 1974, the Rodman group is one of Europe's most respected shipbuilders, and is the oldest boatbuilding company in Spain. It has produced more than 15,000 boats, from fast, fun day boats to luxurious long-range cruisers, as well as commercial and patrol vessels. Based on the stunning Atlantic coast, Rodman excels in blending offshore durability with cruising comfort and style, as well as world-class construction.
Arriving in November is the Rodman Spirit 31, an exciting 9.4 m sports boat with two double cabins, one in the bow and one running athwartships under the saloon. With a 3.36 m beam and a unique cockpit seating system, it provides a spacious layout and yet can still fit in a 10 m berth or drystack. Buyers have a great range of engine options, as it is available in diesel inboard or outboard versions.
Also arriving this year is the Rodman 890 Ventura, a 29 foot (8.8 metre) sports-fisher with an enclosed cabin and two double berths. Its large cockpit is ideally suited to the keen fisherman, yet is equally appealing for overnighting with the family.
Other popular models include the 1090/1290 Evolution sport fishers, which are available with twin diesels and in saloon or flybridge versions.
The Your Marine team says Kiwi clients have been impressed by European reviews of the boats, with build quality being a big selling point. All Rodman leisure boats come with a 10-year hull warranty, and are built to Lloyds register, ISO 9001, ISO 14001 and Pecal 2110/AQAP standards, and are very well-suited to New Zealand marine conditions.