SailGP, the purpose-led global racing league, has renewed its partnership with premium eyewear maker Maui Jim Sunglasses as its 'Official Eyewear Partner for Season 3. 
One of the fastest growing sports properties in the world, SailGP embarked on its third season last month in Bermuda. Having recently completed its second event in Chicago, Season 3 will see Grand Prix racing take place at eleven events in total, spanning 2022-23. Iconic locations include Copenhagen, Saint-Tropez, Dubai, Singapore and Sydney. The season – that features the sport's best athletes going head-to-head on identical, high-speed, foiling catamarans – concludes in San Francisco in March 2023.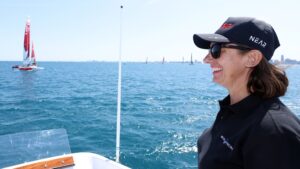 Martijn Van Eerde, Maui Jim Senior Marketing Director for EMEA and APAC said: "Our experience with SailGP last year could not have been any better. The format, the events, the people… it all works so well. Also, it has proven to be a perfect environment to expose consumers to our brand and have them try on our products to experience how our technology helps them in some of the most challenging light conditions. It has been an incredible and fast paced adventure since we started, we look forward to Bigger & Better in Season 3"
Following a successful partnership last season, Maui Jim has re-signed with SailGP to help expand its global audience and reach. Through the partnership, Maui Jim will offer its sunglasses for purchase on SailGP.com and at SailGP's global events for fans looking to experience more color, clarity, and detail with Maui Jim's patented PolarisedPlus2® technology.
Kate Worlock, Head of Licensing and Retail at SailGP said: "We are really excited to re-sign with Maui Jim and it's great testament to the success of our partnership last season. Not only does Maui Jim have a fantastic heritage and product that we know our fans love but, stemming from their Hawaiian roots, they also have a passion for the environment so I look forward to developing this partnerships further together."
The next event in SailGP Season 3 – Great Britain Sail Grand Prix – takes place in Plymouth on July 30-31.