The BIAV Boating Industry Hub was back in action this week at the South East Careers Expo at KCC Park at Skye. Over 2,500 upper-secondary students were exposed to a number of great career options, including across the boating and marine industry.

Our thanks go to Mercury, Cranbourne Boating Centre, MSV and JPM Shiprights, who supported BIAV with the Hub. Photographed on the stand are Trevor Henri, Dave Avard, Jarrad (Cranbourne Boating Centre), Mary Papantoniou (BIAV), Kimberley Hughes (Safe Transport Victoria), JP Marquet (JPM Shipwrights), Andrew Brown (Event organiser – LLEN) and Laura Dew (Safe Transport Victoria).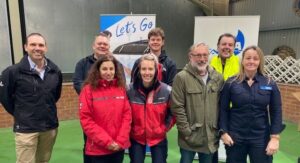 The day was very successful with BIAV having, in its view, the best stand and highest visibility, great interest from students and teachers, and a good rate of people downloading the QR code to the Boating and Marine Industry Careers Guide. All promotional collateral was handed out and many students took part in the hands-on activities.
BIAV continues to look at ways to attract and retain young people to the industry and these days are a really important aspect of this. We again thank each of the contributors and Mary Papantoniou for putting it together.