The Marina Industries Association (MIA) has annopunced the continued expansion of the Gold Anchor program with Westhaven Marina in Auckland being awarded with the 4 Gold Anchor accreditation.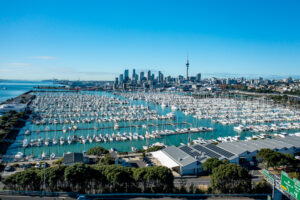 As one of the City of Sails' more important assets, Westhaven Marina is located in Auckland's city centre, and has grown steadily since 1946 as the recognised hub of recreational boating in Auckland. This bustling marina is home to over 1,800 recreational boats, four yacht clubs and a variety of marine businesses and hospitality establishments.
Westhaven Marina is the first marina in New Zealand to be awarded with this global accreditation. The Global Gold Anchor is an international accreditation which requires a rigorous assessment of a marina's services, procedures and facilities. It involves an independent audit of 86 criteria across all areas of the business, plus a customer survey. The accreditation aims to inform consumers as to the level of services and facilities at marinas and to provide marinas with a set of benchmarks to maintain and a pathway for continual improvement.
In announcing this award, Suzanne Davies MIA CEO commented, "Westhaven Marina is the largest recreational boating facility in the Southern Hemisphere and the first Gold Anchor marina in New Zealand. It's an amazing achievement and a credit to the Westhaven team in creating such an incredibly comprehensive marine facility."
On receiving the 4 Gold Anchor award, Westhaven's Marina Manager Karenza Harris said, "Westhaven Marina is honoured to be the first Gold Anchor marina in New Zealand. Our team is focussed on providing customers with the highest level of service and facilities and we are pleased that our efforts have been recognised with this award."
Davies further noted, "There are over 200 Gold Anchor marinas accredited in 28 countries around the world, the program is really on the move and expanding in numbers. To have our first New Zealand marina join the program shows the strength of the Gold Anchor brand as a credible way of communicating to potential customers the marina's commitment to quality facilities and services. We look forward to more New Zealand marinas joining the program."