Choosing the ideal weather window 10 days prior to the start of the show, Horizon Yacht Australia cruised the Horizon FD80 from their Gold Coast headquarters to Sydney where it was on display at the 2022 Sydney International Boat Show.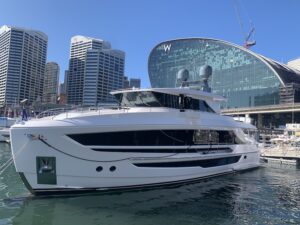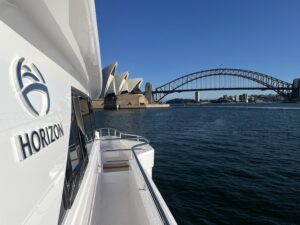 The 400 nautical mile voyage took the crew, comprising Mark Western, Managing Director, Craig Maile, Service Manager, and Tony Jones, Sales Manager, just 36 hours, during which time they encountered a mix of weather, wind and conditions which the FD80 handled with ease.
"We had good weather for around two-thirds of the trip with light following seas, light winds and a bit of swell," says Mark Western. "But for the last 80 nautical miles, from Port Stephens on, we had 35 knot winds from the west-north-west, round to the south-west, a head-on sea and very messy conditions.
"The FD80 handled it beautifully. The FD hull performs brilliantly in a head-on sea. The round bilge and high-performance piercing bow soften the ride. It's such a fine entry. And there's a lot more buoyancy further forward than a conventional monohull.
"We were 40 miles offshore, in a short, confused, nasty sea, and the FD80 was a pleasure to drive. We went out wide from Stockton Bight and beelined it straight to Sydney in around 30 to 35 knot winds, travelling at around 15 knots to get into Sydney by the last Spit Bridge opening at 9.30pm. The boat handled perfectly. We are very satisfied with how the FD80 performed."
In terms of fuel burn, the FD80 averaged around 9.4 Litres per nautical mile, cruising at an average of 12.5 knots, according to the data.
The FD range, launched in 2016 as the vision of CEO, co-founder and naval architect, John Lu, is designed by the respected Dutch design firm of Cor D. Rover.
The popularity of the FD (Fast Displacement) series is due to its compelling offering that combines space, performance and the ability for owners to customise their vessel to their own taste.
"They have really struck a chord," says Mark of the range that spans 75 to 125-feet which has become the fastest growing model series in the world. Once people see them at boat shows and on the water, they realise the FD Series is everything they're looking for in a boat."
The new FD80 features a semi-enclosed skylounge configuration and four-stateroom layout with main-deck master suite. This vessel is the first FD80 with an open galley adjacent to the main saloon, and features a large island wrapped in Les Origines de Rex white stonework, complementing the interior décor such as a backlit metallic silver wall feature and creating a chic, cool ambience.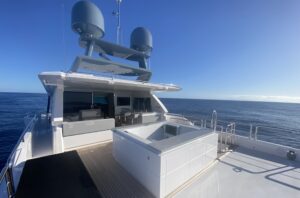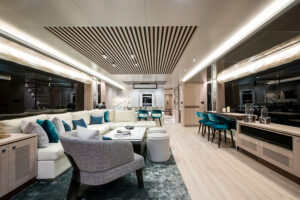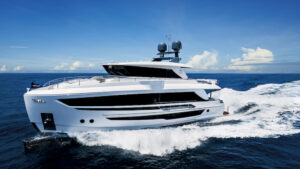 "In 2022, we will deliver 12 FDs – which is equal to the US," says Mark.
"Production is now booked out until early 2023. We have just sold an FD80 to AMSA 2C Survey (commercial charter), which makes three Horizons built to Survey, including our FD90 stock boat which arrives in August.
"There's a real market for building boats to Survey," he continues.
"The appeal is their incredible volume for length. They offer huge deck space: aft deck, foredeck, and then the flybridge has the enclosed pilothouse and massive entertainer's deck with lounge, barbecue, bar, jacuzzi, sunpads. The beach club-garage is yet another leisure space that really defines the FD Series.
"Best of all, the FD80 and FD90 are under 24-metres which is the key for crewing and securing a berth, and they offer the complete package when it comes to charter."
For more information telephone: 07 5577 9009 or email:
More at horizonyachtaus.com