Infrastructure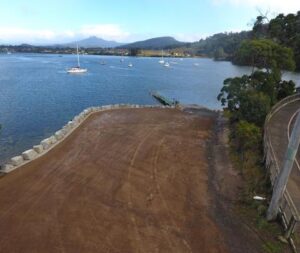 Stage one of the new Dover upgrade has now been completed. This has involved increasing the manoeuvring area near the ramp. Tenders will be going out in the coming months for stage 2 which involves work on the ramps and a walkway.
The Huon Valley Council will also be undertaking work on improving the parking near the site. This will be a terrific boost for recreational boaters in Dover and surrounding areas.
Another big project nearing completion within two weeks is the new jetty at Cygnet.
PWC e-Newsletter
MAST recently sent out the first PWC e-newsletter. This newsletter is specific to PWC and MAST hopes to issue these twice a year. If you wish to read this newsletter, please click the link below. You can also subscribe to receive further issues.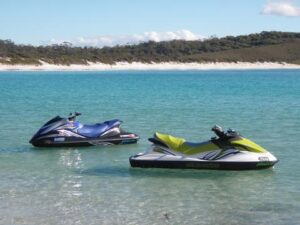 School Program Update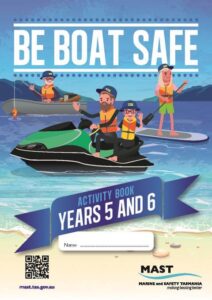 The State School Swimming and Water Safety Program is off to a good start this year with nearly 50 schools visited or booked so far. MAST has spent time developing resources for the Grades 3 & 4 and Grades 5 & 6 students with new Activity Books produced and distributed during the MAST school visits.
MAST has also increased the number of presenters of this program with better coverage in the North of the state and a new high school presentation has been developed for Grades 9 and 10 students. Visiting high schools gives MAST the opportunity to reinforce the messages that were first introduced during the students' primary school years and serves as a timely reminder for the potential recreational boaters of the future.
Coroner's Report
The report on a tragic fatality last year on the River Tamar was recently released. The deceased was in the water for 30 minutes, however the report states that the life jacket had risen above the person's head prior to the drowning.
In the report, the Coroner has advised that information provided by MAST emphasised that life jackets fitted with crotch straps prevent the life jacket from riding high on the wearer and, as such, increases the protection from drowning.
MAST urges everyone to consider retrofitting a crotch strap to their life jacket and using them. It could make all the difference. MAST has been successful in ensuring that all inflatable life jackets from Level 150 and above, that are made to the Australian Standard, are manufactured with a crotch strap from 2023.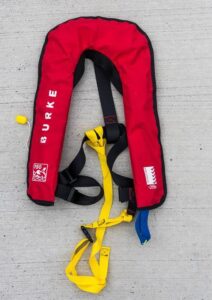 Agfest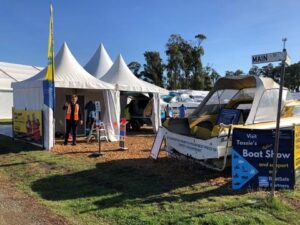 Agfest 2022 will be held over four days between Wednesday, 24 August and Saturday, 27 August. Tassie's Agfest Boat Show will again be running on Seventh Avenue between Main and South Streets, with all the boats and accessories you could possibly need for summer.
There will be several new exhibitors in the Marine Precinct this year, so drop in and say hello to the MAST staff and the Boatsafe Partners. There will be fishing tackle, boats, accessories, and life jacket displays to keep you interested. Drop into the MAST stand on the corner of Main Street and Seventh Avenue – we look forward to seeing you.
Mooring Audits
MAST has been conducting mooring audits in both the South and North of the state recently. When a mooring audit is scheduled, permit holders are advised in writing prior to MAST being on site. This gives people ample opportunity to ensure their moorings are compliant. Once the audit is completed, a letter is sent to non-compliant permit holders who are given a further opportunity to rectify the non-compliance prior to a follow-up audit being conducted.
If the non-compliance is not managed after the second notification, an infringement notice is issued.
If your mooring is non-compliant, with no number visible above the waterline or is in a poor state of repair, we recommend you get this resolved, as the audit program may be in your area very soon.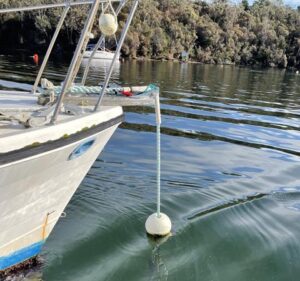 Spring Time – Boat Time!
We are more than halfway through winter! Now is the time to be booking your boat and motor in for that spring service at one of our great Boatsafe Partners around the state so you are well and truly ready for the opening of the cray season and summer.
Don't forget those wheel bearings on your trailer either. You don't want to do a wheel bearing when on your way to the ramp on a nice day. It is also the ideal time to be testing all the systems on your boat – navigation lights, bilge pumps, electrics and VHF radio. Have you ever put a radio test through to Tas Maritime Radio? Are your inflatables ready for a service? There is much to do for trouble-free boating, but good boating means preparation on shore before you leave!
Don't forget your buoyancy. It may be worth retrofitting some added buoyancy.