AkzoNobel's Awlgrip® yacht coatings brand is launching Awlcraft® 3000, the latest Awlgrip top coat to feature enhanced color technology delivering truer and deeper colors for professionals and boat owners.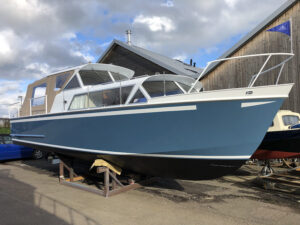 The new Awlcraft 3000 system uses the same toner system as is used for Awlgrip HDT, which reduces complexity for Awlgrip distributors. Developed specifically for professional use, the system is coupled with AkzoNobel's suite of digital color matching tools that support owners in finding the right color for their boat.
Sharing the next generation color platform with Awlgrip HDT means it offers a deeper, truer and more consistent color performance, while retaining the long-lasting, high-gloss finish that its Awlcraft 2000 predecessor is celebrated for.
It also shares the tried and trusted application characteristics and repairability that have made Awlcraft 2000 such an essential part of an applicator's toolbox worldwide for over 25 years.
The launch of the new generation topcoat and clear coat comes in a landmark year for Awlgrip, in which it will celebrate its 50th anniversary.
Matthew Anzardo, Global Yacht Segment Manager at AkzoNobel Yacht Coatings comments: "Over its 50-year history, Awlgrip has become the most immediately recognizable and trusted brand in the market.
"There's a reason why boaters proudly say they've had their vessels 'Awlgripped', and that's because it is a mark of quality that is recognized the world over.
"So, it only seems fitting to begin the year by unveiling our next-generation Awlcraft 3000.
"Specifically engineered for a consistent, easy application that dries quickly, it retains all the qualities including repairability that have made Awlcraft 2000 the celebrated product that is loved by applicators and boat owners far and wide.
"Its enhanced color platform ensures that colors pop like never before, resulting in a long-lasting, high-gloss finish that is guaranteed to turn heads."
At launch, the Awlcraft 3000 Clear Coat and a set of ready-mixed colors will be available for the Asia Pacific, European, and North American markets that include the popular colors of: Snow White, Flag Blue and Extreme Black.
The full Awlcraft 3000 range will consist of a full range of colors, one clear coat, and one binder base (available later in 2023). Awlcraft 3000 will continue to use Awlcat #2 converter and Awlgrip Reducers.
Get onboard with off the chart color with Awlcraft 3000.
For more information visit awlgrip.com