Tom Slingsby insists Australia are 'not fazed' by any of their SailGP rivals heading into the Season 3 Grand Final, with his team getting their 'mojo' back at the ITM New Zealand Sail Grand Prix.
The Aussies raced a strong event to finish third overall – losing in the Final to Canada and New Zealand – and their qualification for May's three-team winner-takes-all Grand Final is confirmed, with Slingsby and co to race in San Francisco for a third successive SailGP Championship.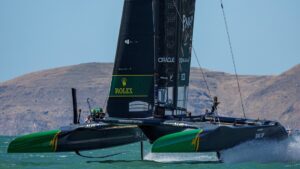 Despite recently performing below their incredibly high standards – Australia haven't won an event since Dubai in November – Slingsby feels his team's performance in Christchurch was a turning point which saw the Aussies get back to their best on the water.
"Even with our third-place finish, I don't think people realize how happy we are internally," said Slingsby. "It felt like we were sailing like the team of old. We made some changes, we went out there, and while we didn't get to practice them because we had some limited training time, it felt like we were the Australia of old leading to mark one and then sailing away from the fleet.
"We haven't had that feeling for quite a while, so we're actually leaving Christchurch with a lot of confidence heading into a windy venue in San Francisco.
"We know that we've got a bit of mojo back, and if we lead to mark one we're pretty hard to stop."
As back-to-back SailGP Champions, Australia will be competing in the San Francisco Final to retain the Championship trophy and continue their stranglehold over the league.
The two teams they will face in the showdown finale have not yet been confirmed, although New Zealand are in a strong position to qualify along with one of France or Emirates GBR.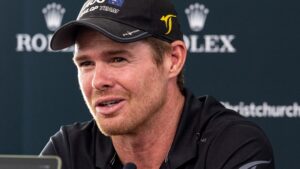 Nonetheless, Slingsby is not concerned by how the rest of the fleet is performing – instead preferring to keep his attentions focused on his own team.
He continued: "It doesn't bother us who wins [events], we don't care what the positions are, only ourselves really.
"We're now heading into San Francisco with an 11-point lead. We've just got to focus on the Final now. We've got to focus on ourselves, we're not too fazed about the other teams."