The adage 'if it ain't broke, don't fix it' was ringing in the minds of Sail Port Stephens organisers after 15 successful years, however the decision to revamp the regatta formula for 2023 is paying dividends, with competitors embracing the changes ahead of the opening salvo on April 24.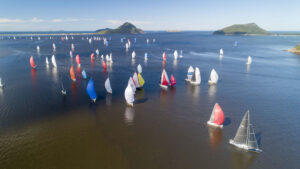 Marina berths, moorings and motels are solidly booked as entries near 90 yachts for the inaugural Passage Series, which combines the Commodores Cup and Port Stephens Trophy events into five days. With more likely to come, it's set to be a record fleet for the initial days of racing.
Among them will be the Reichel Pugh 52 Virago, Hanse 575 Fourth Dimension IV, Farr 51 51st Project from Port Stephens, the Kerr 40 Condor, Farr 400 Vento and Tofinou 12 Albenia, with Royal Prince Alfred Yacht Club (16 entries), Newcastle Cruising Yacht Club (10), Port Stephens Yacht Club (8) and Royal Motor Yacht Club Port Hacking (5) well represented.
There's a wide array of entries from the stables of Beneteau, Bavaria, Elan, Hanse, Jeanneau and Northshore, Port Stephens being a sailors' paradise for production cruiser-racers. While PHS is currently the preferred handicapping system for the Passage Series, based on entries, the Port Stephens Trophy offers an alternative for those who enjoy passage racing but prefer ORC – this is the premier performance trophy of the first week.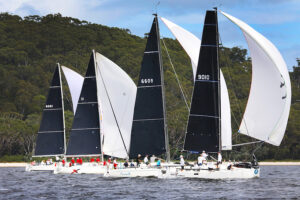 The Windward-Leeward Series and ORC-handicapped Rob Hampshire Cup, set for May 5-7, will feature up to a dozen TP52s competing in Act 3 of the intraclass 2023 Gold Cup, along with 12 IRC and ORC entries. Again, a late flood of entries is expected.
Significantly, the reduced strain on marina berths has opened the door to more first-time competitors as, previously, some yachts were occupying berths for the entire week yet only racing in one or other series.
"Our objective was to make better use of the finite number of berths and moorings, in order to grow the event and allow fresh participation," Regatta Director Paul O'Rourke says. "We believe there are still some opportunities for the May 5-7 Windward-Leeward Series and Rob Hampshire Cup."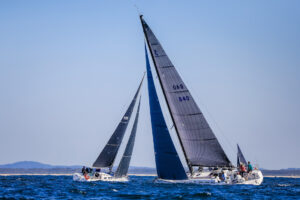 Pittwater's Royal Prince Alfred YC is staging its Pittwater to Port Stephens race on 22 April, starting 10am, as the final and possible deciding event in its Coastal Pointscore series. Also, the timing of the club's Pittwater to Coffs Harbour classic (31 March) avoids a clash with Sail Port Stephens, boosting both fleets.
Newcastle Cruising Yacht Club's annual feeder race on April 23 currently has 15 entries for the 22 nautical mile crossing of Stockton Bight from Newcastle Harbour – that's expected to double by race time as more local and visiting yachts get their entries sorted. Included is the Making Waves Lyons 54 helmed by Wendy Tuck.
Last but not least in the Sail Port Stephens triumvirate is the inshore Bay Series that will bring together Finns, Lasers, Tasars, Aeros and Windsurfers from May 20-21, sailing out of the Bay Sailing Centre. Trailer sailers are accommodated with three days of passage racing, starting May 19, and a dedicated windward-leeward course will be offered for sports boats and J70s.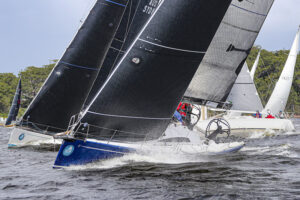 The International Canoe class is a late addition to the Bay Series. The Canoe is the world's oldest sailing dinghy, dating back to the 1860s. Sailed solo with hiking planks and a high-aspect sloop rig, they're exceptionally fast and exciting to sail and watch.
Social aspects of SPS23 will be another highlight. Brix Distillers is supporting the welcome party on April 24 while Zilzie Wines will provide a complimentary glass of wine to Ball guests at Shoal Bay Country Club on April 26 – an Aussie bush dress theme applies. Port Stephens-based Murray's Craft Brewing Co is also supporting the event.
Windward-Leeward and Bay Series competitors also have welcome events and daily prizes to look forward to.