Australian Sailing in collaboration with the Australian National Maritime Museum are excited to announce that nominations have now opened for the prestigious Australian Sailing Hall of Fame.
The only elite sailing institution of its kind in the country, the Australian Sailing Hall of Fame is now entering its seventh year. Established in 2017 to recognise the greats of the sport, the Hall of Fame showcases the achievements and impact of sailings finest, and is not limited to athletes and teams, but instead covers all disciplines of the sport, from coaches and designers to club officials.
Legendary sailor Jessica Watson OAM was one of three inductees to the Hall of Fame in 2022
Nominations are being sought across two categories – the sailor or athlete category and the general category for those who have played a critical supporting or leadership role.
With nominations open for the first time since 2020 due to the pandemic, Australian Sailing CEO Ben Houston is excited for the next round of inductees to be recognised and celebrated by the Australian Sailing community.
"The Hall of Fame is a significant honour that recognises the considerable and invaluable contribution of people within our sailing community," began Houston.
"I encourage you to nominate someone deserving of this recognition and am excited to see the Hall of Fame grow with the addition of this year's inductees."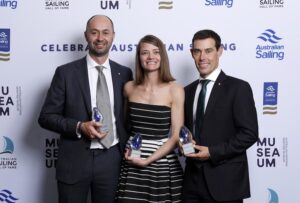 To nominate someone who has made a vital contribution to sailing in Australia as an Innovator, Olympian, Paralympian, Team Member, Trailblazer, Visionary, or someone who has made a Lifetime Achievement, visit the Hall of Fame Nominations page on the Australian Sailing website.
Nominations will remain open until 11:59pm Sunday 30 April.
Please note that those nominated in previous years who have not been inducted will have their nominations rolled over into the 2023 nominee pool for consideration by the Selection Panel.