A guaranteed way to make your day on the water an exciting one – spend it with an X Series Performance Day Boat.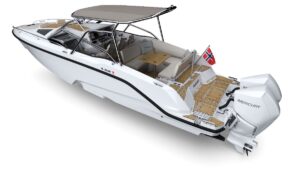 Since 1985, Hydrolift from Norway has chosen to do things differently. It has challenged convention and continually delivered innovative designs that have been game changing.
Its owner and designer, Bard Eker knows a thing or two about going quickly in boats, and how to make them that way. He is a former winner of the Class One Offshore Powerboat World Championship, he is also a key influence behind the groundbreaking Koenigsegg supercar and this experience in world-beating design coupled with a drive to succeed forms the DNA of Hydrolift.
As the name Hydrolift suggests, it chose to adopt the twin step hull that provides lift and a more comfortable driving experience and at higher speeds. Indeed, much higher speeds than would normally be attained by an average day boat. A convention challenging 80 knots is perfectly attainable with triple Mercury outboards – enough to humble many outright sports boats.
The ability to create such a practical application of performance was a result of an evolved hull design originating from the innovations made through Hydrolift's rich history in offshore powerboat racing.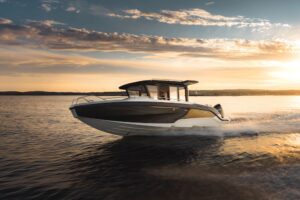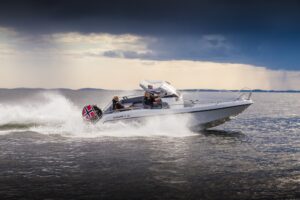 Now Australia finally gets to benefit from this Nordic powerhouse of design and innovation with the much-anticipated delivery of the X-Series performance day boat range which consists of five models.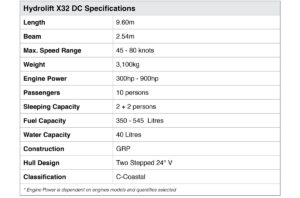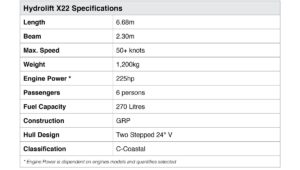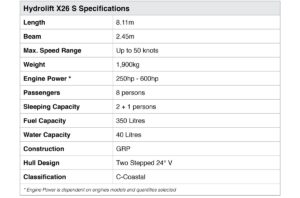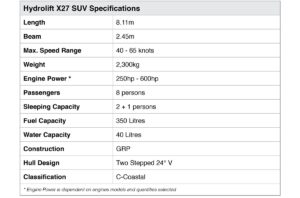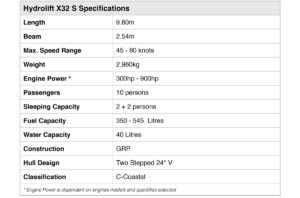 Hydrolift has made a strong commitment to the Australian market with an ample supply of boats being made available from Ocean Boats www.oceanboats.com.au (NSW, VIC, SA, WA) and Geoff Lovett International (QLD). www.geofflovettint.com
There's no wait list, except for the X27 which is on order. Good news for those keen to get out on the water. Every model has been specified for the Australian market with factory fitted T-tops providing additional shade, U-DEK® marine decking, 12v/240V power and increased capacity cooler boxes ensuring no one will run short on beverages.
"We are delighted to be appointed by Hydrolift to offer the X Series range, which we believe will capture the attention of anyone seeking a day boat at the next level. Not only do these boats boast a stunning quality of finish and practical liveability, but the way they perform is simply extraordinary" Shane May – Ocean Boats
Each boat is beautifully appointed and crafted by hand to the most exacting of standards as you would expect from a country known for its world-class boat building heritage. Importantly with the benefit of over 40 years of research and development, every boat incorporates numerous thoughtful design features which have been progressively applied over time which makes a Hydrolift boat so remarkably practical to live with and yet so easy to forget how capable they are out on the open water.
Whilst each boat offers the unparalleled thrills of speed and agility through the exemplary hull design and race-bred driving dynamics, its benefit of incredibly low drag results in exceptionally low fuel consumption and increased range.
Seating is switchable to allow all passengers to face forward, the hull has evolved with an exceptionally high freeboard for added comfort and safety, and cleverly hidden practical features such as galley stations and storage bins all create onboard space maximised to create usable areas for socialising and relaxing ensuring each boating experience is a memorable one.
For those wishing to acquire the ultimate day boat with jaw dropping design and exemplary quality, but one also truly capable of delivering the sheer pace and thrills of a performance sports boat, then a Hydrolift X Series offers the perfect day out on the water.
For more information visit oceanboats.com.au