New Zealanders are pushing the envelope with marine innovation.  As this year's Auckland Boat Show got underway today, it was an emphatic demonstration of New Zealanders' quick uptake of big boats and innovative marine products.
Central Auckland has been transformed into a boater's paradise with the largest collection of luxury yachts seen in New Zealand, as well as a sea trial marina, and marquees full of New Zealand marine companies after a hiatus of the boat show since 2019. In the on-land section of Jellicoe Harbour formerly filled with America's Cup bases, rows of trailer boats are providing fodder for a public hungry for the boating lifestyle.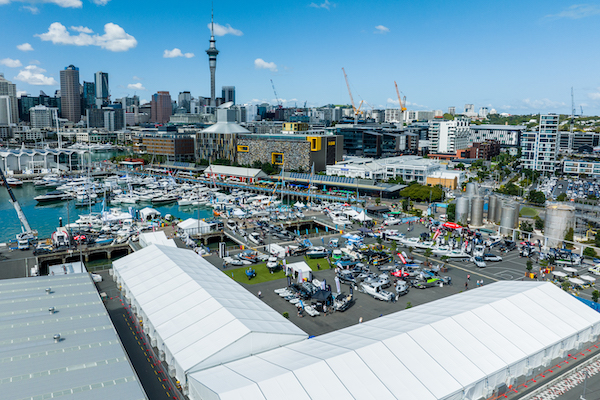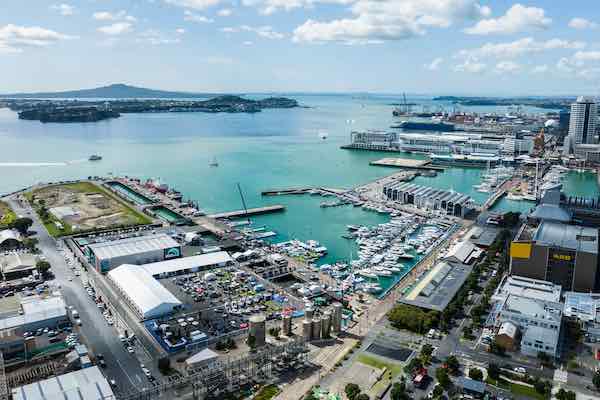 "Our ticket pre-sale numbers were 50 per cent higher than the previous show, last held in 2019," says show organiser, Stacey Cook. "We know that New Zealanders are increasingly taking part in boating and the show is reflecting that; with more boats, a greater proportion of large yachts built in New Zealand, greater numbers of luxury boats, and more people through the door."
A study commissioned by NZ Marine last year showed 1.9 million New Zealanders take part in boating annually, with more than 1,540,000 boats on the water in a $2.9 billion dollar industry which is growing by an estimated 44,810 vessels per year.
"The marine industry is New Zealand's largest non-agricultural, manufacturing industry," says NZ Marine CEO, Peter Busfield.
"It's an industry built on high-tech design, industry-led training and passionate people."
New Zealanders are also demonstrating early adoption of sustainable technologies with a number of sustainable brands featuring prominently at the show.
Herley Boats' 34 foot electric catamaran is a striking, muscular power-cat, powered by a hybrid propulsion system. It's New Zealand's first locally-produced diesel electric hybrid catamaran for the recreational market with technology which expands the possibilities on how far and for how long the owner can travel.
Fellow Kiwi company Sealegs announced the development and release of an electric amphibious tender; its 3.8m electric tender, the 3.8TE.
The new electric amphibious tender was developed after feedback from superyacht owners and crew, and saw the 3.8TE specifically designed to fit within the lazarette of larger vessels. Innovation is being delivered in the 3TE through Programmable Logic Switching (PLS) technology coupled with next generation sensors. To achieve this vision, Sealegs has pioneered amphibious electrification with digital controls and software, which it calls AMTRAX.
This proprietary system controls the craft using sensors from the environment, CAN bus information from the outboard, and intelligent automated control of the amphibious mechanisms and land traction systems, as well as the water propulsion system.
Whakatane boat builder Legacy Marine, is displaying one of the largest yachts in the show. The striking L70 which was designed and built in Whakatane and is one of the most hotly-anticipated boats in the event. Finished to an exceptionally high standard, the yacht was built for a New Zealand owner and is another demonstration of the appetite for quality – and for large vessels – from the New Zealand public.
Running from 23-26th March, it's New Zealand's largest on-water display of vessels and takes place in central Auckland's Jellicoe Harbour. The internationally-acclaimed event is known for its sea trials – allowing those in the market for a new boat to take for-sale vessels straight from downtown Auckland and onto the Waitemata Harbour – as well as hosting New Zealand's largest collection of luxury vessels, innovative marine launches and annual new releases within a boat show.