Summer 2023 NZ Marine News magazine has recently been published and distributed to over 500 NZ marine member companies nationwide and all 700+ MAST Academy apprentices.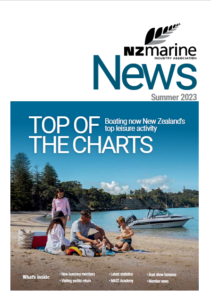 The NZ Marine News provides an excellent update on the many activities by the various marine sectors to grow the NZ industry in 2023 and 2024.
This issue includes:
report from MAST – the Marine & Specialised Technologies Academy of NZ
promotion of NZ marine companies overseas
two industry icons honoured
boat show news
report on the ever-increasing popularity of boating
industry statistics
news from members nationwide, and more!
The NZ marine industry continues to be world-leading in many aspects and it is great that the NZ Government have themselves advised that boating is New Zealand's most popular recreational activity amongst New Zealanders with 2 million or 40% going boating each year.
Click here to download NZ Marine News