The Circa SXV 40m concept has evolved!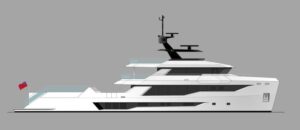 In explaining their product Circa marine say, "that it is an extensive process to get from the first concept to a design ready for production. Circa has spent considerable time consulting naval architects and designers and considering feedback from valued clients. It isn't a single orbit either, you will see this concept plan has come a long way from the initial release".
"The consensus was to provide a larger proportion of house for more indoor living space. Whilst still providing ample room aft for a range of configurations that may be desired, this space could provide an infinity lap pool, tender/s storage, Helipad, beach club, or whatever may be required".
"Custom-designed motor yachts begin with a vision, our vision is to provide the adventurer and explorer, the vessel to carry them to remote destinations to lap up the sun of secluded tropical locations or dance with the penguins in the moonlight".
"The platform for this stunning motor yacht can be easily developed to whatever you may need, from research vessel to superyacht. They have the flexibility to develop a high degree of customisation and have a great support team to help with the decision-making process. Their in-house designers will then make your vision a reality".
"Once the contract is finalised, the build gets underway. Currently Circa has the opportunity for someone to secure a build slot for June this year allowing for an almost immediate start".
Circa say that "all that's required is an email or phone call to start the conversation".
Contact Peter at www.circamarine.com