Highfield Boats, a leading manufacturer of aluminium hulled inflatable boats, has appointed dynamic Sydney boat retailer Marineco to represent their brand in Sydney south and southern New South Wales, and Northside Marine at Boondall in Brisbane.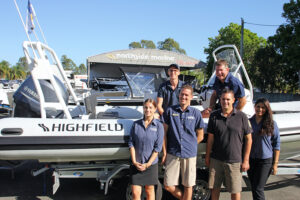 With phenomenal growth globally and upwards of 80 percent growth in the Australian market, Highfield has chosen these two established dealerships to further develop their brand in Australia's largest boating market, helping to service Highfield clients and welcome new owners to the Highfield brand.
Marineco, headed by Ben Pugh and Michael Blanch, have built Sydney's leading inflatable boat dealership, and are ideally suited to represent the Highfield brand. Their state-of-the-art dealerships are strategically located in the Taren Point boating hub, perfectly suited to assist clients on Sydney Harbour and Sydney's southern waterways.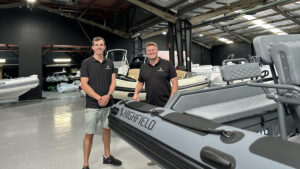 "We're delighted to partner with Ben and Michael as we've been very impressed with their world-class approach to their presentation, the representation of their brands and their outstanding commitment to customer service," said Highfield Boats Australia's Peter Pembroke.
Michael Blanch, co-founder of Marineco said "Ben and I have worked very hard to establish a dealership that does things a little differently. We have a focus on offering a first-class experience when customers visit our showrooms and an unwavering commitment to outstanding sales and after sales service.
"Highfield is a brand we have long admired and we're extremely excited to be representing what is fast becoming the world's best range of rigid inflatable boats," he added.
In Brisbane, Northside Marine has welcomed Highfield boats to its offering, an addition which General Manager, Bill Hull says "makes perfect sense".
"Highfield fits very well with our other brands, Jeanneau, Stabicraft, Surtees and Stacer. They are very different, being inflatables, and our first foray into RIBS.
"Highfield complements Jeanneau power boat, which are available in models up to 13-metres, so it's great to be able to offer RIB tenders in house," he continued.
"There are very few RIB dealers in Brisbane, particularly on the northside. We have watched the RIB market expand over the past few years and decided it was the right time.
"There has been substantial growth in the use of RIBS as a day boat. The jetski market has enjoyed growth of around 29 percent and now, many in that segment are looking enjoy time on the water with more people. RIBS offer a comfortable, ride, they're stable, safe, wide and accommodate more people.
"The more we looked at Highfield, the more we realised it is a very viable brand that will stand on its own feet. They are very professional and well supported by the factory and locally. They have put a lot of investment and energy into the business and the Highfield website is so informative and has explanation, videos, 3D drawings and the options for every model.
"By the time customers come in to see us, they already know a fair bit about Highfield boats. We have already sold quite a few."
On Moreton Bay for the start of this year's Brisbane to Gladstone Race, 7 April, a Highfield 700 was the media vessel used for filming the Race start. Bill said he was impressed with how the aluminium-hulled RIB sliced through the water, despite the choppy conditions.
"On our way to RQYS, we saw three Highfield boats along the Brisbane River, which is very encouraging."
At this year's Sanctuary Cove International Boat Show, Northside Marine will have some of its brands on water and their Highfield RIB specialist, Chris Steffens, on hand at the Highfield Boats stand on The Promenade above F Arm.
"We are really looking forward to representing the brand and seeing the response to their new models including the Sport 660 at SCIBS."
For more information visit highfieldboats.com.au, marineco.com.au and nsmarine.com.au