Australian-made lubricants and protectants from Lanotec celebrate 25 years in 2023
Made from natural sheep's lanolin, the offering is non-toxic and safe to use in sensitive environments and has found favour in marine applications
New extended range focused on marine use, with innovative aerosol lines now available nationwide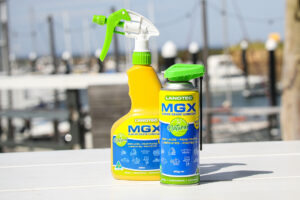 Lanotec, the Australian-made leader in sustainable multi-purpose lubricants and protectants, has extended its specialist offering to cover the marine industry, with the new MGX product presenting the ultimate in marine-grade lubrication.
MGX is the culmination of 25 years of experience in the development of premium quality, all-natural sheep's lanolin-based products, which are environmentally friendly, and ideal for use in sensitive locations, such as those found around the marine setting.
The MGX product offers long-term corrosion protection for inboards, outboards, electronics, including battery terminals, wiring and connectors, plus cables, engine mounts and pumps, crevice corrosion and canopy frames, while preventing the galling of dissimilar metals.
It also lubricates a wide range of marine trouble spots, including steering cables, inboard legs, outboard brackets, hinges and more.
Lanotec MGX can also be used to penetrate, lubricate and protect wire ropes, linkages and shackles, and as a spray-on anti-seize.
Resistant to high-pressure wash-off, MGX has been salt spray tested to Australian Standard 2331.3.1 and is safe on rubber and plastics.
The product is available in 300g aerosol, 600ml spray packs, and 5-litre bulk pack sizes.
The new aerosol line features a handy combo nozzle for use in any circumstance, with its inert CO2 propellent non-hazardous and non-flammable, ensuring maximum delivery of active ingredients.
"Over the years, Lanotec's various products have found favour in the marine industry because they are non-toxic, biodegradable, and safe to use around the water," said Robert Doncon, General Manager, Lanotec Australia.
"More and more, users understand the advantages of moving away from petrochemical options to environmentally friendly solutions, while equally important is the ability to support Australian-made products.
"Working with our extensive customer base in the field, from marine supply retailers, professional vessel operators, boatbuilders, local councils, marinas and more, we have developed MGX to be the perfect product for a wide range of marine-specific lubrication and protection tasks at all levels.
"With 85 per cent of Australians living within 50km of the coast, corrosion is a true problem.
"Lanotec MGX is perfect for boat trailers, especially where salt water can accumulate, under outboard motor cowling, especially on electronics, which extends to navigational equipment, on bilge pumps, anchors and chains.
"It is also ideal on rods, reels and fishing tackle for improved performance and extended service life, while MGX can rejuvenate tired sunbaked surfaces, protecting them from further degradation.
"Our doubling down of our commitment to the marine space comes at an exciting time for Lanotec, as we celebrate 25 years of operation with new product lines, new packaging options and fresh branding.
"Not only is Lanotec's range of lubricants, penetrants, corrosion inhibitors and degreasers the safest and most versatile available in the marketplace, but they are also specifically designed to outlast and outperform the competition."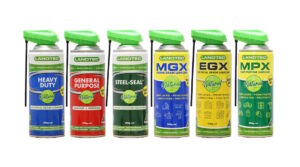 The perfect companion to Lanotec MGX is Lanotec Citra-Force, an organic industrial-strength cleaner and natural degreaser, which safely cleans a wide range of finishes, including aluminium, stainless steel and anodised surfaces, without streaking.
The heavy-duty product removes hard-to-clean material, including oil, grease, carbon, adhesives, acrylic paint, shipping waxes, blackjack, uncured silicone, sealants, lanolin and rubberised glue, amongst many possible uses.
Another popular line amongst marine users is Lanotec Timber Seal, which penetrates into timber decking on docks to prevent drying, splitting, cracking and wood rot.
In addition to weatherproofing outdoor timber surfaces, it also highlights the natural wood grains, all while protecting any metal fastenings and fittings from corrosion.
Lanotec Timber Seal can also be used to protect exposed wooden surfaces on vessels.
Also applicable for use in the marine space is Lanotec Steal-Seal, Wire Rope Lube for wire ropes above 16mm in diameter, plus Heavy Duty liquid lanolin, which has found favour for protecting a wide range of products exposed to salt water, including machinery and vehicles being prepared for export.
Lanotec's offering also extends to spray bottles, greases, and a wide range of other lanolin-based solutions for a huge array of applications across many industries.
Backing up the green credentials of the Lanotec offering, multiple products have received Global Green TagTM's prestigious certification, NSF certification, are endorsed for use in industries operating a HACCP-based food safety program, as well as being approved by AQIS for use in export registered meat establishments.
For further information on the entire Lanotec range and local stockists, visit www.lanotec.com.au.