The Boat Works has welcomed yet another haul out option to its yard – the 520 horse power, hot rod, custom-built workhorse known as "The Beast".
The V8 prototype was built to enhance the service at the region's most technically advanced boat yard, manoeuvring vessels efficiently around the yard.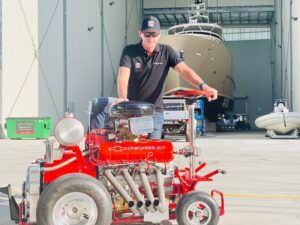 The Beast comprises a Big Block, Chevrolet 454 cubic inch engine with Hydrostatic.
Tony Longhurst, Owner and CEO of the Boat Works said; "I know the capability and power from racing V8 Supercars myself, so I thought why not enhance our lifting capabilities to meet the demand of boats and put 520 horsepower to work to get the job done."
"We're taking shipyard service to the next level. We're ready for anything at The Boat Works!"
For more information visit theboatworks.com.au