The Lifting Equipment Engineers Association (LEEA) will be making a series of announcements at LiftEx Australia, the future-focussed conference taking place at the Australian National Maritime Museum in Sydney on 24th and 25th May 2023. This will include a major announcement that will deliver on something Association members have been requesting for a long time and promises to change the landscape for them and technicians into the future. Those in the room will have privileged first access to this news, giving them a chance to gain a head start over competitors. So now is the time to book a delegate ticket at https://liftex.org/liftex-australia/book.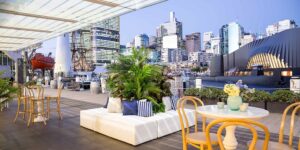 LiftEx Australia will feature an amazing line-up of speakers presenting a vision of how the Lifting Industry will look in the next 10 years, giving attendees a chance to stay ahead of the curve by taking away skills and advice on subjects including advanced technologies and AI, mindset and resilience, sustainability, engaging the future workforce, and much more. An exciting programme of featured presentations includes:
How to think like a futurist – and why this matters to you
The conference's keynote speech will be delivered by Charles Brass, a Futurist from the Futures Foundation Australia. While the Lifting industry is always evolving, products might not change quickly, but things are getting bigger and more complex. Charles will get attendees thinking in ways to navigate change and uncertainty by providing the tools to help explore alternative potential futures, that will make a business fit for the future.
Thrive with change
The pressure has been on since emerging from Covid, with people being asked to do more, quicker. Mindset and behaviour expert Alison Earl suggests that the power of mindset to adapt readily and overcome the burnout epidemic is something that must be addressed. With practical strategies to boost resilience and mental toughness, Alison will give attendees a new understanding of how stress isn't always bad and how to get people to thrive.
Disrupting the traditional recruitment model: strategies for success
Federica Gargiuli, Principal Consultant at Talent Supply, will be asking: where did all the people go? The Lifting Industry is not the only one facing a people shortage. Freddie will give tangible and practical strategies companies can use to attract and engage new talent, from 'Generation Z' and beyond.
Making the most of your business opportunities today
Navigating uncertainty appears to be in fashion and dealing with economic head winds, cyber-crime, technology and IP are constant battles. Throw in succession or mergers and it becomes a minefield. Brett Cowell, Founding Partner and Director of Cowell Clarke, will give practical tools to help shape the future of businesses.
Sustainability: owning the lifecycle of products
The Lifting Industry has some great advocates for recycling and there are some good news stories to tell. However, more needs to be done. Accelerating the uptake of product stewardship in Australia, Rose Read, Director at the Product Stewardship Centre of Excellence, will discuss new thinking in the recycling and re-use space, and will be explaining how the Centre is assisting major firms and industries address waste challenges through mentoring, educating and activating stakeholders across product and material supply chains.
Speaking about LiftEx Australia, Justin Boehm, Regional Manager – Australia & New Zealand at LEEA, said: "This is the first opportunity I've had to welcome the industry to a LEEA event for a long time and we've gone above and beyond to bring something out of the ordinary, memorable and great. We are organising this event for our members, to ensure you leave motivated, with more knowledge, and are excited by what we are achieving for the Lifting Industry."
Secure your delegate ticket now at https://liftex.org/liftex-australia/book.