Premier Annastacia Palaszczuk has announced a $16 million investment to expand the Great Barrier Reef International Marine College in Cairns to deliver world-class maritime training.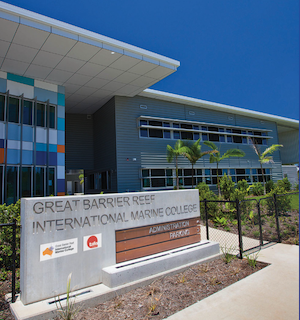 The investment, which is part of the upcoming 2023-24 Queensland Budget, will support the 2,675m² extension to the existing facility, to include a new workshop, additional classrooms, offices and staff facilities, and a new boat shed.
The expansion of the college will be delivered by Queensland's very own construction arm, QBuild, and will support up to 37 jobs during the construction phase and a legacy of training opportunities for the region.
Construction is expected to commence in the first quarter of 2024 and be completed in mid-2025.
Complementing the funding announcement, the Cairns Great Barrier Reef International Marine College will partner with Maritime Safety Queensland (MSQ) and TAFE Queensland to make Certificate III in Maritime Operations (Integrated Rating) available in Queensland for the first time ever.
An Integrated Rating ticket is an entry level certificate enabling people to work in the industry and one that needs to be revalidated every five years. Until now it has only been available in Tasmania, Newcastle and Perth which comes at a big cost for any employer or employee who is wanting to enter the industry.
A lifeboat and DAVIT system, which are essential pieces of equipment needed to deliver the training, have been gifted by the Australian Navy, via the Australian Maritime Union.
It is anticipated that the Certificate III in Maritime Operations (Integrated Rating) will be offered in 2024.
The training program is made possible by the $21 million Backing Queensland Maritime Jobs – a key election commitment from the Palaszczuk Government to build the maritime industry through more training, jobs and shipping routes.
The Premier said "Today's announcement is about more than bricks and mortar – it demonstrates our ongoing commitment to delivering world-class education and training in the regions," the Premier said.
"This is about supporting and growing a vital Queensland sector, and ensuring these workers have every opportunity to participate in a locally-delivered, critical training program
"That means good people getting into good jobs and this $16 million investment will do just that."
Treasurer and Minister for Trade and Investment Cameron Dick said "Queensland's economy continues to lead the nation, with the largest jobs growth since pre-COVID-19 and low regional unemployment including Cairns (4.2 per cent).
"This 2023-24 Budget investment is part of an ongoing commitment to drive high value jobs, particularly across our mighty regions.
"Investing in traditional and emerging industries such as Defence will drive our State's competitive advantage and attract new investment."
Minister for Transport and Main Roads Mark Bailey said "It's incredible to see the Palaszczuk Government's investment already paying off with, as new workers enter the industry.
"We set out to foster a sustainable Queensland maritime workforce and support more jobs here on Queensland shores.
"I am proud that our government can work alongside the Maritime Union Australia to deliver the critical training the industry has been crying out for."
Employment and Skills Development and Minister for Training and Skills Development Di Farmer said "The Great Barrier Reef International Marine College is already a major training destination for people looking to enter the maritime industry, refresh training or upskill.
"Upgraded and extended infrastructure at this facility will attract new students and ensure there is capacity to upskill the existing maritime workforce.
"By investing in training and jobs, we can ensure our maritime industry is sustainable and competitive well into the future – keeping good jobs and critical services afloat."
Local MP Michael Healy said "This expansion of TAFE Queensland's Great Barrier Reef International Marine College will be invaluable for the young people of Cairns.
"With significant investment of both state and federal governments into our marine precinct real and sustainable career pathways are available for the young people of Cairns, and it continues the diversification of our economy."
Local MP Craig Crawford said "Cairns is home to one of Australia's most strategically-important Ports – welcoming cruise tourists, undertaking ship repair and maintenance, and exporting premium Queensland products and produce to the world.
"Encouraging careers in the maritime industry is key to the continued progress and prosperity of the region."
Local MP Curtis Pitt said "I know this new commitment will be welcomed across the Far North.
"I'm sure it will inspire more young people to explore an exciting and lucrative career working along the coast, and on the water."
Jason Miners, Maritime Union Australia's Queensland Branch Secretary said "This investment by the Palaszczuk Government will strengthen and grow the domestic maritime industry, creating good secure jobs for Queenslanders.
"As we have seen with the cost of living pressures, it's critical to secure supply chains and a strong maritime industry can help to ensure that by reducing our reliance on overseas goods.
"This is a great boost for local jobs here in Cairns. The MUA, along with industry, identified critical skills shortages and we thank the Palaszczuk Government for their commitment to addressing this."
Further information:
The Great Barrier Reef International Marine College (GBRIMC) is recognised as a leader in the provision of maritime training – providing high-quality, hands-on education for local and international clients.
Since 2017, the Palaszczuk Government has committed more than $570,000 on maintenance works and specialty equipment at the GBRIMC – including $120,000 in maintenance works as part of the 2022-23 Budget.
The Government continues to upgrade and modernise TAFE Queensland institutions across the State, as part of the $100 million 'Equipping TAFE for our Future' program.
In 2022, the Palaszczuk Government committed $150 million to expand the Cairns Marine Precinct – enabling the maintenance, repair, and overhaul of more and larger vessels.
TAFE Queensland was awarded an initial five-year, $36 million Pacific Marine Training Services contract by the Australian Department of Defence in March 2021.
Under the contract, TAFE Queensland will deliver specialised training to navy and police personnel from Pacific Island nations, who will crew 22 Guardian Patrol Boats as part of the Australian Government's Pacific Maritime Security Program.
Strategically located in Portsmith – a short distance from the Port of Cairns – GBRIMC currently offers a range of industry-recognised maritime courses, including Certificates I to IV in Maritime Operations, and skill sets in safety, marine radio and fire fighting.
Students at GBRIMC have access to specialised training facilities including a Class A Full Mission Bridge simulator, tug-optimised bridge and desktop simulators, a sea survival training immersion pool and engineering workshops.