Tickets are selling fast for the 2023 Nautilus Marine Insurance Marina of the Year Awards (MOTYA) being held on Tuesday 16 May at the Cruising Yacht Club of Australia in Sydney.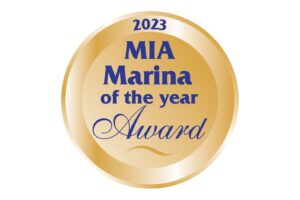 After the success of the 2021 Awards and feedback from members, the awards are conducted on the alternate year to the Marinas Conference, providing a further opportunity for the industry to gather, network and celebrate annually. This year has seen a record number of entries for the ten hotly contested awards. The finalists and winners will be announced on the night at the Gala Dinner.
The MOTYA recognise excellence and leadership in the marina industry and sets new benchmarks for the industry. The prestigious Awards provide exceptional promotional and marketing opportunities.
MIA CEO Suzanne Davies is looking forward to celebrating the success stories of the marina industry. Davies commented "the judging panel was impressed by the number of entries and the quality of many of the submissions. I was particularly excited by the number of entries in the Best Industry Innovation category, which demonstrates that we are a modern and inventive industry prepared to challenge the way we do things."
The marina industry has undergone a myriad of changes since the awards were launched in 2000.
MIA President, Andrew Chapman said, "With the growing popularity of boating and global focus on environmental conservation, it was great to see how submissions showcased more environmentally friendly practices, reflecting the current global situation".
In recognition of winning the past two consecutive Best Boatyard of the Year (under 20 boats) Awards, the MIA is pleased to announce that Fenwicks Marina in Brooklyn NSW will be inducted into the Marina of the Year Hall of Fame at the Gala Dinner.
Fenwicks Marina is a true family business, with owner Andrew Fenwick developing the marina and boatyard from a greenfield site in the 1970s with his late father. Andrew's son, Tim Fenwick is also part of the family business today.
The 2023 MOTYA is sponsored by the MIA's Insurance Partner, Nautilus Marine Insurance – the leading insurer of recreational vessels and marine business assets across Australia and New Zealand. Lyndon
Turner, CEO of Nautilus Marine Insurance said, "The Nautilus Marine Insurance team is proud to be a part of these Awards which celebrate marinas and marine businesses that represent industry excellence."
Tickets to the Gala Dinner are selling fast, so anyone wishing to attend, celebrate and catch up with friends should book today. Please email Ed Shute to secure your ticket before they sell out.