Eleven new ghost net grant projects worth over $3 million are being funded by the Australian Government to help detect, remove or dispose of marine debris in northern Australia.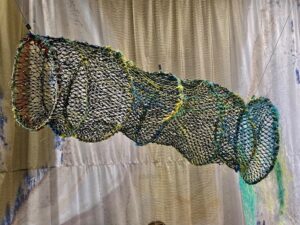 Tonnes of abandoned fishing gear known as ghost nets drift into the Gulf of Carpentaria each year, entangling marine life, damaging coral reefs and creating biosecurity and vessel hazards.
The successful projects range in value from $110,000 to $400,000 and represent a broad range of approaches to tackling the ghost nets challenge.
This includes large-scale clean-ups in known hotspots, recycling projects with innovative end-of-life solutions, remote sensing activities for early detection of ghost nets and arts projects that repurpose nets and other marine debris.
Projects that will be offered funding include:
Trialling new beach clean-up equipment to facilitate the removal of large amounts of waste from beaches in Arnhem Land.
Ghost net detection using satellite imagery together with artificial intelligence to enhance predictive capabilities.
An Indigenous women's social enterprise and digital marketplace to trade ghost net artworks and raw materials and to raise awareness of ghost nets.
Removing and recycling crab traps and other accumulated fishing debris from key locations in the Gulf of Carpentaria, using MICROfactorie technology.
Arial surveys using drone technology to monitor ghost net locations on Groote Eylandt.
The grant program is part of a broader $14.8 million Ghost Nets Initiative to help protect our unique marine habitats and wildlife. Under the initiative, 221 ghost nets have been removed from the Gulf of Carpentaria, along with over 50,000 kg of marine debris.
The grant projects will commence in the first half of 2023 and will run for two years. More information on the grant round and projects can be found on the Parks Australia website.