The new Inkerman Creek boat ramp was delivered under a tri-party Deed of Agreement between Transport and Main Roads' (TMR) Maritime Safety Queensland (MSQ), Rockhampton Regional Council (RRC) and Gladstone Ports Corporation (GPC) was committed to in 2019.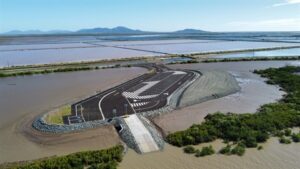 Under the Port Alma boat ramp relocation project deed, there are two new boat ramp facilities being delivered – at Inkerman Creek and at Casuarina Creek.
Due to the challenging geotechnical conditions at Inkerman Creek, careful planning and design was undertaken by the MSQ delivery team with a two-stage approach to deliver of the project.
Stage one scope of works saw the reclamation of tidal land, including preloading of the reclamation fill and allowing for a 12 month settlement period prior to carpark and boat ramp construction commencing, and construction of the road intersection.
Stage two scope included removal of the surcharge fill and construction of a new single-lane boat ramp and car-trailer park.
Funding is being jointly provided by the MSQ's Maritime Infrastructure Investment Program, RRC and GPC.
MSQ will own the in-water infrastructure – the boat ramp – and RRC will manage the facility.
Transport and Main Roads Minister Mark Bailey said "I am pleased to jointly announce this project delivered by TMR's Maritime Safety Queensland, alongside the Rockhampton Regional Council and Gladstone Ports Corporation the completion of the new $3.8 million recreational boating facility at Inkerman Creek.
"The brand-new single-lane boat ramp and car-trailer parking facility is a real win for Central Queensland boaties.
"Queensland based company Australian Marine and Civil successfully delivered the project, with careful planning and design by Maritime Safety Queensland to manage the geotechnical constraints at the site.
"Due to these constraints, it's taken some time to deliver the new facility with an extended period necessarily allowed for settlement of the car park fill, but definitely worth the wait.
"This is a great example of collaboration between the Queensland Government, local government, and port corporations working together to deliver vital infrastructure for Queenslanders."
"The Inkerman Creek facility is a key part of the Port Alma boat ramp relocation project, and we now look to focus on the second facility being delivered – a new boat ramp at Casuarina Creek."
Rockhampton Regional Council Mayor Tony Williams said "Many locals will be happy to have access to this key piece of infrastructure that allows safer and easier entry to great fishing spots," Mayor Williams said.
"This project came to fruition thanks to consultation with community members and those advocating for a safer, more accessible location to fish and launch boats.
"Rockhampton is the home of the barra and the king threadfin, and this new ramp gives our boaties a better chance of hooking one.
"This project is also a win for tourism, opening up additional recreational fishing tourism products in the Fitzroy Delta and Southern Keppel Bay.
"I'd like to commend the State Government and Gladstone Ports Corporation for working with Council to deliver important recreational infrastructure for our region."
Gladstone Ports Corporation CEO Craig Haymes said "It is fantastic to see this project reach fruition for the Rockhampton community.
"We have worked closely with Transport and Main Roads' (TMR) Maritime Safety Queensland and Rockhampton Regional Council (RRC) to help deliver this $3.8M project.
"GPC is proud to support the communities in which it operates.