Over $30 million dollars of spectacular luxury motor yachts from Riviera Australia to arrive at Sanctuary Cove ahead of this year's Sanctuary Cove International Boat Show (SCIBS), taking place May 25 to 28.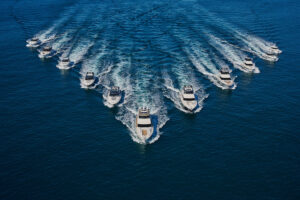 At a combined 617 feet in length, the spectacular display from Australia's premier luxury yacht builders Riviera Australia is the largest line of luxury motor yachts ever assembled on the Gold Coast.
In preparation for their only Australian boat show appearance in 2023, with one of their largest showcases in the history of the Show, Riviera will present a dazzling display as it deftly manoeuvres 11 of its magnificent luxury yachts into Sanctuary Cove Marina.
Rodney Longhurst, owner of Riviera, will be at Sanctuary Cove to oversee the fleet's arrival, and speak to invited media.
"This tremendous showcase at Sanctuary Cove will be Riviera's only boat show display in Australia for 2023 and will feature selected models from our 39 to 78 feet range," Mr Longhurst said. "Visitors to our display will be able to experience the meticulous engineering, supreme luxury and ease of boating that has earned Riviera international regard."
Johan Hasser, General Manager of Mulpha Events, organisers of SCIBS, says Riviera, one of the largest exhibitors at the Show, always delivers a stunning display, and Monday's fleet arrival will be no exception.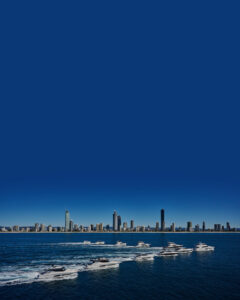 "Riviera produces some of the most luxurious and in-demand motor yachts in the world, and we are really proud of our association with them," Mr Hasser said. "We are thrilled that this year they have chosen SCIBS to be the host of their global premiere of the 585 SUV which is sure to be a highlight for Show visitors."
Riviera is one of Australia's biggest marine success stories. From its purpose-built, state-of-the-art site at Coomera on the Gold Coast, the largest luxury yacht building facility in the Southern Hemisphere, Riviera builds around 150 luxury motor yachts each year, with over 55% of its yachts exported to Europe, the Americas, Asia and New Zealand. It is one of the most sought-after luxury yacht brands in the world, with its production increasing substantially year on year.
"Our team is the heart of our success," Mr Longhurst said. "We have over 900 people on our team, including more than 100 apprentices, so we are training the master craftsmen of the future."
Riviera is not the only brand breaking records in 2023. The Sanctuary Cove International Boat Show itself has exceeded all expectations. Exhibitor space is sold out, and every inch of the Sanctuary Cove precinct will come alive with everything boating and marine.
"We have well over one hundred global, Asia-Pacific or Australian product launches being showcased at this year's Show, from large, luxury superyachts, to smaller recreational vessels and personal watercrafts (PWC), to fishing gear and gadgets," Mr Hasser said. "This is over four times the launches we have seen in previous years, and cements the strength both of our Show, and the marine industry."
Pre-sale tickets are exceptionally strong and tracking to exceed previous events. Tickets are only available online, there will not be a Box Office at the Show. Tickets available from sanctuarycoveboatshow.com.au