Senior crew from Marine Rescue Tuggerah Lakes have spent the past two days on waterways around Cronulla undergoing induction and training on the unit's new 6.3 metre walk-through console Naiad (NYE-ADD) boat, Tuggerah Lakes 21.
The replacement rescue vessel is powered by twin Suzuki 115 horsepower outboard engines and is capable of reaching speeds of 38 knots.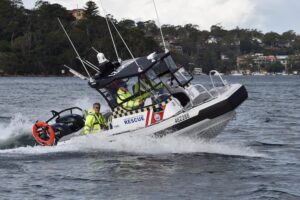 Marine Rescue Tuggerah Lakes Unit Commander Bob Sutton and senior crew members were thoroughly shown how to operate Tuggerah Lakes 21 before delivering the boat to its new permanent home at Toukley early this afternoon.
Mr Sutton said Marine Rescue volunteers at the Tuggerah Lakes unit are excited about adding the new vessel to the fleet.
"The new Naiad has performed exceptionally this afternoon, has done a great job
"It's going to replace a 10-year-old vessel, a Cobia that we've had and this will be certainly well received by our members and also the community," he said.
The Tuggerah Lakes Unit Commander said the new rescue boat is part of Marine Rescue's fleet modernisation program.
"It's replacing a 10-year-old vessel so technology is a big thing.
"Upgraded navionics, reliability, safety for our members plus being able to get to whatever jobs we need to do in a faster manner and then being able to get people back to safety," Mr Sutton said.
Since October 2022, volunteers at Marine Rescue Tuggerah Lakes have completed 53 rescue missions including 5 emergency responses.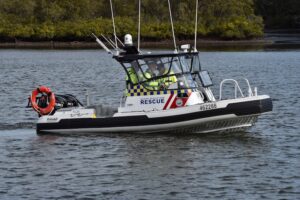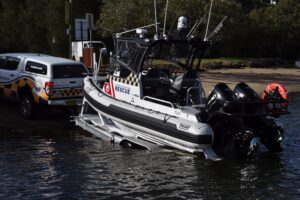 Mr Sutton said the new TL 21 is a versatile vessel with wide-ranging capability.
"Being a rescue vessel, it's not very prescriptive about what sort of work you'll be doing, but we'll be doing the routine tows where vessels breakdown to medical emergencies, people in the water, kayakers.
"These things happen during daylight and also night so our members are always ready to respond and this vessel will certainly help in that aspect.
"We get a variety of craft and you've got to be able to respond to all sorts of issues.
"The Tuggerah Lakes system is over 80 square kilometres of the three lakes and the rivers and we've got to be able to reach all those areas and this new vessel will be able to get into shallower water than our current vessel, which is birthed down at the entrance," Mr Sutton said.
Tuggerah Lakes 21 is fitted with a full Raymarine suite of maritime navigation equipment.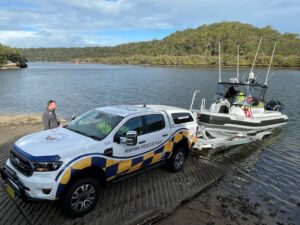 Marine Rescue NSW Commissioner Alex Barrell said volunteers at the Tuggerah Lakes unit will begin undergoing full training and induction on the new vessel from this weekend before it goes into active service.
"What's really great when we turnover our vessels is watching the unit members get out there, get engaged with the new vessel, train and practice so that when the call comes, our crews are skilled up and can go and render that assistance," Commissioner Barrell said.
For more information visit www.marinerescuensw.com.au