Every year, numerous marine businesses in Australia are acknowledged through the Australian Marine Industry Awards. One award in particular, the Australian Marine Apprentice of the Year, has been growing in popularity, with the number of submissions in this category hitting a record high this year.
The winner of this annual award receives complimentary round-trip flights and accommodation to Amsterdam to join the Australian marine industry delegation at METSTRADE. This event is the biggest trade show in the world for marine equipment, materials, and systems. Winning this award is a desirable opportunity for any apprentice, providing them with a chance to enhance their career and broaden their knowledge of the maritime industry globally.
Western Australia has emerged as a significant player in the global marine industry, with some of the world's leading boat building manufacturers operating within the region. Echo Yachts, Austal, and Silver Yachts are just a few examples of the companies that have established themselves in Western Australia, contributing to the thriving marine industry in the region.
The presence of such key players has led to a high demand for skilled workers in the marine industry, including marine apprentices. Western Australia possesses an array of skilled workers who have received training and hands-on experience in various trades in the marine industry, making it an ideal location for aspiring marine apprentices to develop their skills and expertise.
We congratulate the Australian Marine Apprentice of the Year Western Australian Finalists:
Harry Osborn, Austal Ships, Fabrication
Jared Del Carmen, Austal Ships, Fabrication
Mitchell Dick, Austal Ships, Fabrication Apprentice
Zaylee Olsen, Austal Ships, Electrical Apprentice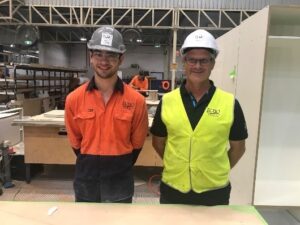 The state winner for Western Australia is Brent Studman, Echo Marine Group, Cabinet Marker Apprentice. Brent receives complimentary flights and accommodation to attend The Australian Marine Industry Awards Gala Dinner at Sanctuary Cove Queensland on 24 May where he is in the running to be announced as the national winner against other state award winners from Queensland, New South Wales and Victoria.
Chris Blackwell, Sales & Marketing Manager, Echo Marine Group said "The marine industry in Western Australia has grown substantially in recent years, and we are proud to be a part of it. The high demand for skilled workers in this industry has led to the development of a strong apprenticeship program, and we are thrilled to see so many submissions from Western Australian companies for the Australian Marine Apprentice of the Year award."