Camaraderie, lively debate, networking and exchange of tall tales and true were on tap at this year's Rivergate Southport Yacht Club Captain's Lunch.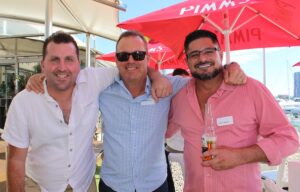 Hosted by Rivergate Marina & Shipyard and Southport Yacht Club, the annual Captains' lunch was expanded to include heads of industry, government and suppliers, all eager to share their news and views of the year so far.
Under picture perfect blue skies and dazzling views over the Gold Coast Broadwater, guests savoured seafood and sliders, among other delicacies on the Eastern Lawn at SYC.
The diverse group of 53 guests, whether from refit and repair, hospitality, charter yachts, privately owned yachts, agents or industry bodies, was united by their commitment to and passion for the yachting industry.
"It's incredible to see so many of our friends and colleagues in one room," said Steven Fisher, Rivergate Director of International Business, welcoming guest to start proceedings.
"From all over the region and some internationals, we're grateful to welcome you today and hope you all enjoy the camaraderie, great food and something to wash it down with as we celebrate all the things that make our industry great."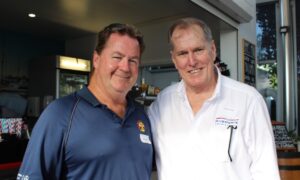 As the finger food and seafood boxes rolled out, conversation, like the refreshments, flowed, and discussions turned to challenges and triumphs since the last industry gathering.
The AIMEX-Superyacht Australia team had just returned from MYBA Charter Show in Barcelona, where Australia was the Destination Sponsor and occupied a large pavilion supported by Tourism Australia.
According to their observations, while the show attracted fewer vessels than pre-pandemic editions, the charter broker turnout was encouraging.
"It still hasn't recovered fully in terms of vessel numbers," said CEO David Good. "But in terms of opportunities to speak with international charter brokers direct, it was excellent. The message was loud and clear: Australia is open for charter and offers a diverse range of cruising grounds – from the desert to the tropics and everything in between – year-round, which is very appealing.
"They were most interested in the Great Barrier Reef and the Kimberley region," David continued.
"It was impressive they knew so much about the Kimberly Coast and its amazing natural attractions. Some very high-profile superyachts such as the iconic VAVA II and Octopus visited the region and word has obviously spread.
"The objective is for charter brokers to recommend their clients visit Australia, which will fill the vessels that are already here and fuel more visitation of foreign yachts that are now permitted to charter here."
Of the 2023 Rivergate SYC event, David praised the 'meet and mingle' format as "more relaxed, more conducive to chatting".
"It was a brilliant day! It was great to see so many people from different sectors of the industry able to meet. It was extremely valuable for making connections, especially among people who hadn't met each other despite living and working in the same city. I was most pleased with the important meetings between stakeholders for the upcoming Brisbane Olympic Games.
"Social occasions like this one are vital for bringing people together."
Among the many and varied topics that emerged during the course of the day were the challenges of recruiting quality crew in the numbers required. Charter operators were hopeful that the numbers of international crew would gradually return to pre-pandemic levels to meet rising demand.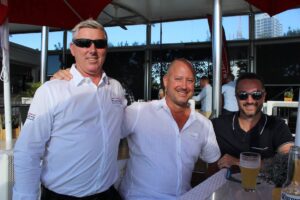 Mark Downes, PLAN B Vessel Manager reported the 50-metre one-of-a-kind vessel was due at Rivergate again in October for its next refit project. This will be the yacht's third spell at Rivergate before heading back to Europe after being in the Pacific for 10 years and based out of Brisbane for the past three, where it undertook two major maintenance periods at Rivergate.
"It's time to head back to the Atlantic," he said of the high-tech superyacht equipped for scientific research. Built by the Australian Navy in 1973, PLAN B has undergone extensive refit work to transform it from a warship into a luxury vessel complete with outdoor cinema, helipad, jacuzzi, health centre and gym.
The Captain and crew of MY SEA RAES, the 30-metre Farocean superyacht, part of the luxury boutique hotel, Raes on Wategos, were thrilled with the opportunity to meet fellow charter crew and enjoy some down time socialising.
SEA RAES' Captain Anthony Arvanitakis, Engineer, Diana Bridgford, and Chief Stewardess, Maddie Sawtell said they were enjoying welcoming guests aboard for day charters to North Stradbroke Island and longer stays further afield as far as the Whitsundays and Sydney, and growing their appeal with hotel guests.
"They are two different markets, but they do overlap," says Diana. "It's a new offering and we're working hard to promote the allure of enjoying fine food and excellent service aboard a fantastic motor yacht."
Captain Lachlan Calcutt, who's skipper for the private superyacht MY Kaycee, based on the Gold Coast, said his Aussie owners were planning voyages to Port Douglas and the Kimberley aboard their 35-metre President 115.
Captain Glenn Woodbridge and First Officer Taylor Rankin aboard MY POPS, a 37-metre Sunseeker based at Airlie Beach, reported strong bookings from international charter groups, compared with low numbers of domestic enquiries, likely due to cost of living and interest rate pressures.
"International is very strong," said Taylor, who previously operated 35-metre Sunseeker MY Settlement with Glenn for three and half years.
"We're booked out over winter and we've had eight or so charters from the US in the past year. They're all absolutely impressed with the Whitsundays and the range of activities on offer."
As Captain Glenn explained, "It's truly the most magnificent, most fascinating charter destination.
"It offers every kind of experience; fishing, diving, beach barbecues, hiking on uninhabited islands, bird watching, and of course the seafood. We have a talented Sydney-based Chef we fly up for charters and our guests love his food. The cuisine on board charter yachts is a really important part of the charter experience."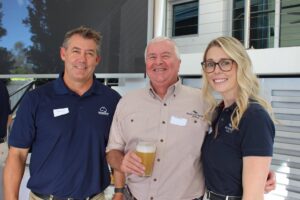 Geoff Majer, owner of Major Yacht Services said he was extremely pleased international superyachts were starting to return to Australian waters. "There's been a bit of a lag while people start to feel safe to commit to travel again, but the upswing is happening," he stated.
Kane Bygrave, Director of Aurora Global Logistics spoke of the positive return to reliable shipping and the steady flow of exports and imported vessels into Australia.
"We didn't stop shipping during the pandemic, but it's heartening that the situation is close to returning to normal, restrictions on crew travel have lifted and prices have stabilised. In fact, trade lanes with Asia are actually cheaper now, while Europe and North America are around 10 to 20 percent higher."
Carrie Carter, Director of Carter Marine Agencies, flew down to the Gold Coast from Cairns for the event. Asked about her observations of some of the local and international challenges she mentioned the recent increase in visitation of game fishing boats from PNG heading to Cairns for refit and repairs.
"We receive a substantial number of enquiries from game boat owners, the sub-24-metre vessels, who would like to stay and enjoy the Whitsundays and the Reef. But the by-law doesn't cover them, so they have to refit and return. I feel we're missing out on this market, but because they're not superyachts, they're not covered in the legislation."
Miriam Kent, General Manager at Brisbane Economic Development Agency (BEDA), was pleased to meet with Captains and senior crew to learn from them first-hand about their berthing needs in the lead up to the 2032 Brisbane Olympic Games.
Sarah Egan, Director of Boat Style attended the event. A long-time collaborator with Rivergate on refits and yacht outfitting, Sarah recently completed the full interior and exterior refit of MY MORE, 44-metre Benetti Vision, breathing new life into a 20-year old vessel and bringing lucrative work to contractors on-site.
"It's a big boost for the local economy," she said. "This refit broke lots of ground in terms of innovation and modern appeal for a highly discerning owner."
Of the Rivergate SYC event, Sarah said "It's always nice to reconnect with colleagues and make new contacts and alliances."
"There's no doubt that lunches, dinners, all the social occasions that we invest time and effort in pay off in the form of fostering the ties that lead to a stronger industry, closer collaboration and of course, referrals," said Steve Fisher, toasting another successful superyacht industry get together.
The next major gathering, post-ASMEX, will be the Australia Tahiti Superyacht Rendezvous which will take place at Marina Taina, Papeete, Tahiti 8 July.