SailGP, the world's first climate positive sport and entertainment property, has added another accolade to its purpose credentials after winning the Environmental Sustainability award at the FEVO Sports Industry Awards in London.
The awards recognise outstanding work done throughout the sector, from world-leading sporting events to sports using their platforms to drive social change.
One of 18 categories at the prestigious awards, the Environmental Sustainability award recognises an organisation with a program or campaign focus on driving sustainable practices to deliver environmental benefits through sport.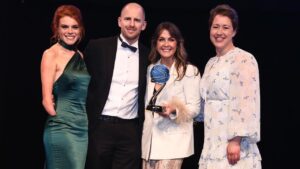 SailGP faced stiff competition from a shortlist of nominees, including the likes of Formula E, Sky Sports and Manchester City Football Club.
But the judges were impressed by SailGP's status as the most purpose driven and sustainable global sports platform, the pioneering Impact League and the league's long list of clean energy initiatives and programs, including Inspire and the Women's Pathway.
Elsewhere, judges highlighted SailGP's 56% reduction in temporary power related emissions in Season 2, and the fact that 80% of SailGP's athletes said they have changed their behaviour to think and act more sustainably thanks to the Impact League.
The award was collected by SailGP's managing director Andy Thompson and chief purpose officer Fiona Morgan in front of an audience of 1,600 sporting stars and industry executives.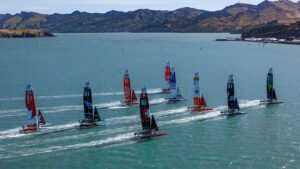 The recognition comes after SailGP won the Ambition and Impact award in the first edition of the BBC Green Sport Awards.
Chief purpose officer Fiona Morgan said: "It's always been a career goal of mine to win a Sports Industry Award, so I feel incredibly honoured to pick up the environmental sustainability award on behalf of everyone at SailGP.
"It really is a testament to my amazingly talented, dedicated and passionate Purpose & Impact team and our wider organisation who have worked so hard to push boundaries and challenge sport to be better."
The ground-breaking Impact League was key to SailGP's award entry, and Morgan said she was excited to see it celebrated by the biggest sporting bodies in the sports world.
"I'm so proud of all our athletes, teams and SailGP staff who have embraced purpose and made it part of our DNA. The Impact League was designed to embed sustainability into the fabric of sport, and it's great to see the strategy being celebrated by the leading sports in the industry.
"All the hard work, brave thinking and pushing boundaries in sport is paying off and I hope it gives other sports the inspiration to create their own version of the Impact League. It's great people now see this new approach is the way forward."
For more information visit sailgp.com