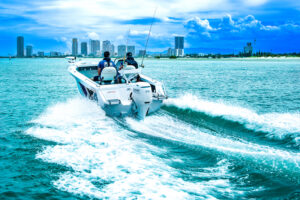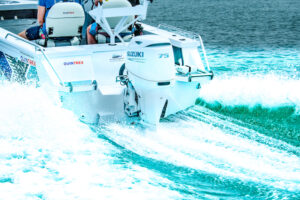 Suzuki Marine has announced the arrival of the Suzuki DF75A outboard motor. Designed for those seeking high-performance and efficient operation on the water, the DF75A represents the perfect blend of power and practicality, taking boating to the next level.
The DF75A 4-stroke outboard is the lightest in its class at 156kg, allowing Suzuki's mid-range outboard category to a wide array of fishing and family boats. Being the lightest in its class, it is extraordinarily compact yet extremely powerful and exceedingly reliability.
The DF75A gear ratio has the greatest reduction gear ratio for under 100HP, which will provide any boater with powerful navigation, maintaining propeller rotation even with a larger load. This design makes a larger gear ratio possible, allowing it to turn a large diameter propeller for high propulsive efficiency while providing higher torque.
Suzuki knows how important durability and reliability are so the new DF75A is built with a rugged one-piece forged crankshaft, an oil-bathed, self-adjusting timing chain and Suzuki's multi-layer anti-corrosion system for strong projection against the harsh marine environment.
Built-in technology such as a self-diagnostics system, oil change reminder system and fuel water detection system help boaters maintain their DF75A outboard and keep them running strong year after year.
The motor can be converted to a tiller steer by purchasing the Suzuki multi-function tiller handle kit.
The sleek design of the DF75A adds to its exceptional performance and makes it aesthetically pleasing. With Suzuki Motor Corporation high-level of craftmanship, this machine is made to last. With its bold and luxury design, plus its wide variety of features, the Suzuki DF75A is set to dominate the market and bring innovation and efficiency to boating enthusiasts.
The Suzuki DF75A is available in 20-inch (L) shaft length and the option to select between Pearl Nebular Black or Super Cool White. It is backed by Suzuki's 3 + 3-year warranty program.
Lightest in its class at 156kg
2.59:1 reduction gear ratio
Stylish form; Available in black and white options
Offset drive shaft for compact body
Double Overhead Camshaft (DOHC) 16 Valve 1500cc 4 stroke Engine
Lean Burn fuel efficiency
Self-adjusting timing chain
Tilt limit system
Troll mode system (optional)
Made in Japan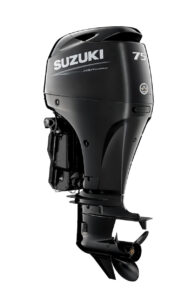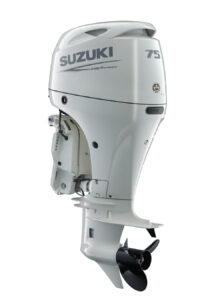 DF75ATL
Shaft length – 20″
Colour – Pearl Nebular Black
RRP – $13,490.00
DF75ATL-W
Shaft length – 20″
Colour – Super Cool White
RRP – $13,710.00
Visit DF75A OUTBOARD (suzukimarine.com.au) to find out more and contact their nearest Suzuki Marine dealer.