Our American cousins have announced their new campaign ahead of their boating season. With the critical mass of boaters and volume of product sold, the huge US market has the capacity to renew to refresh campaigns regularly.  This is hugely beneficial for their market, but also ours where we have the ability to learn and implement activities from their efforts. This is their plan.
Discover Boating, powered by the NMMA and Marine Retailers Association of the Americas (MRAA), has rolled out its See You Out Here marketing campaign heading into peak boating season. The focus remains on expanding the market for boating by attracting the next generation and retaining current boaters.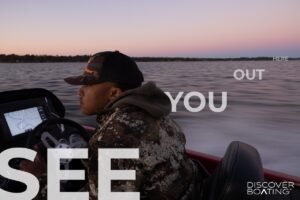 For nearly two decades, Discover Boating has helped nurture the next generation while keeping boating top of mind in the U.S. and Canada, which becomes even more impactful during times of economic, cultural, or political change.
That is why extensive research has been conducted to ensure the brand is reaching and resonating with those who are most poised to become future boaters. Discover Boating recently hosted a webinar, Understanding Barriers and Opportunities of Next Gen Boaters, that addressed the socio-demographics, psychographics and financial opportunities among its target audiences (Core, Growth and Emerging segments), their boating attitudes and interests, as well as their barriers and motivations to boat buying.
The findings revealed a tremendous growth opportunity in starting to engage those audiences today, even though it may take years before they are ready to buy a boat. The three target audiences comprise an estimated 91 million people in the U.S. alone. In line with overall population shifts that are happening as Millennials and Gen Z grow up, the potential future boat buyer tends to have different interests, behaviours and philosophies on what matters most to them. Growth and Emerging audiences have the financial means, interest and engagement in the outdoors, and prioritise memorable experiences over things, which make them a prime target for boating consideration. As the industry welcomes more Millennial and Gen Z future boaters, communicating with them today moves them closer to boat ownership tomorrow.
To attract the next generation – many of whom have not historically seen themselves as boaters – it is important to spark a connection and make them feel welcome on the water. As noted in the webinar, that starts with authentic representation. That is not as much about placing people in advertising than building connections that feel personal, ensuring they feel heard and understood by relating in a genuine way to their culture, attitudes and interests.
All aspects of Discover Boating's strategic marketing approach are rooted in research, including barriers and opportunities related to cost, emotional and experiential benefits of boating, the boat shopping/buying process, education and community. Gaining a deep understanding of the target audience helps inform how, when, where and to whom Discover Boating reaching with the See You Out Here campaign.
Part of the campaign's marketing mix includes a robust media buy across Google search, Instagram, Facebook and YouTube, as well as new strategic partnerships with media outlets and companies reaching next generation audiences including SHAPE, The Root and mitú. In addition, the brand is partnering with NBC's GOLF Channel given the parallel between golf and boating audiences who share similar interests.
Another key component of Discover Boating's marketing is maintaining the feelings of trust and respect the audiences have for the brand, which has acted as consumers' friend with a boat throughout its 20-year history. This requires continually listening to and supporting consumers with information, resources and tools that make their experiences in boating more convenient and fun.
A recipient of the trust and brand equity Discover Boating has established over the years are the NMMA-owned boat shows, which this past year came under the Discover Boating brand umbrella, with the goal of further amplifying the industry's voice and bringing more people to brands and dealers. In the case of boat shows, that customer is further down the proverbial sales and marketing funnel as boat shows are one of the industry's primary industry sales and marketing venues.
The interconnectedness of Discover Boating's awareness efforts and the Discover Boating boat shows is significant. In Discover Boating Boat Show PR efforts alone, more than 800 stories included mention of Discover Boating, delivering more than $500,000 in publicity value. Discover Boating brand awareness efforts, the bulk of which take place between March and September, gets the industry's voice in front of next generation customers. From influencer partnerships to PR to articles, tips, and resources, social and traditional media.
Discover Boating works with content creators on Instagram and TikTok, where the next generation audiences consume the bulk of their news, entertainment and social connections. According to social media software company, Sprout Social, TikTok is the most frequently used social media app worldwide with users spending an average of 23.5 hours per month on the platform, and 70 percent of shoppers look to Instagram for their next purchase. Discover Boating's diverse fleet of content creators represent next gen and current boaters with the unique ability to speak directly to their followers about the benefits of boating and how they can get on the water with help from Discover Boating.
Public relations extends the power of storytelling and increases awareness through strategic media engagement. Discover Boating targets outlets that reach its long-term growth audiences with earned media placements that position the brand as an expert source among mainstream and diverse consumer audiences. PR programming includes media relations, immersive press events and public service announcements (PSA).
Continuous enhancements are being made to DiscoverBoating.com, and a digital transformation for DiscoverBoating.ca is underway to meet the needs and interests of the next generation and current boaters. Site visitors will find enhanced features, timely articles, video, imagery, and interactive tools such as Dealer Finder and Boat Finder. New, relevant content published on a regular basis helps break down barriers and offers guidance for those new to boating. For instance, this spring Discover Boating rolled out a boating safety video series in partnership with Progressive Insurance® to address safety topics in a meaningful and engaging way that resonates with new boaters who recently entered the market.
Industry stakeholders are encouraged to get involved to reach more people, connect with upcoming generations and position the industry for long-term growth. There are many ways to help amplify our voice whether it is by sharing and engaging with content via social media, utilising research, photos and videos available at the Industry Resource Centre, getting Marine Industry Certified if you are a dealer or getting your boats NMMA Certified if you are a boat manufacturer. Stakeholders can also get involved in advocacy efforts focused on water access, which helps ensure current and future customers are able to enjoy waterways across the country.