Gold Coast based youth sailor Xavier Doerr will take on one of Australia's most challenging solo sailing campaigns, and second attempt, to break the speed record for the non-stop, unassisted, solo circumnavigation of Australia in GCCM his 21-foot Mini Transat Carbon Fibre Race Yacht.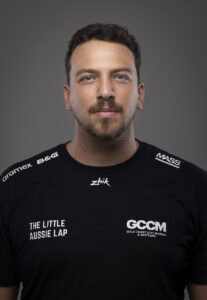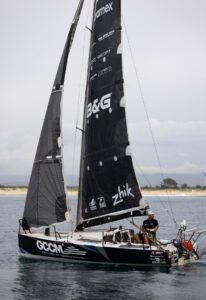 Xavier will attempt to complete his counter clockwise circumnavigation in around 50 days.
The challenge commences today, Thursday May 4, leaving late morning from the Southport Yacht Club where a flotilla along with a media contingent will follow Xavier as he makes his way out the Seaway and to the start line – the sand pumping jetty.
This incredible campaign has only been successfully completed by two people and the current record is held by Lisa Blair who in 2018 took 58 days to complete in her 50ft boat.
The 750kg blue yacht – named GCCM; Gold Coast City Marina – after his major backer will be Xavier's home for the estimated 50 days to complete the feat.
The circumnavigation of the enormous Australian continent feat is equivalent to 1/3 of a lab of the Globe or 12 Sydney Hobart Races.
In his first attempt commencing May 2022, Xavier was struck by an unforecasted cyclonic storm event, forcing him to stay awake for 72 hours in swells the size of two-story buildings and 70 knot winds to steer his boat to safety. In the wake of his last unsuccessful attempt which rendered his electronics useless as his batteries flooded with water.
Xavier has fought skepticism to return once again as the underdog attempting to break the record held by a boat over double the size of however he returns for another crack knowing full well the difficulties and challenges that lay ahead of him.
Three years in the making, this second campaign could not be possible without the incredible support of generous sponsors. GCCM Gold Coast City Marina, Mass Products, B&G, Aramex, Southern Seas Marine, Waterline, Deepwater Collective, Zhik, RawCorp, Australian Framing Solutions, Evolution Sails, Rope Solutions Rigging, PredictWind, Mastervolt, RELION, Hybrid Composites, WrapIt, Classic Marine Trimming and Southport Yacht Club.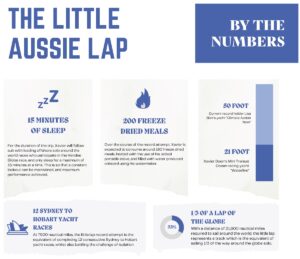 You can follow the gigantic "Little Aussie Lap" via a Live Tracker on the website https://www.thelittleaussielap.com/tracker and the Support Team will post regularly to Facebook and Instagram.
About the Challenger
Gold Coast based sailor Xavier Doerr has big ambitions and a host of sailing records on his radar as he prepares to circumnavigate Australia in a 21 ft, High performance sailing boat, in just 50 days.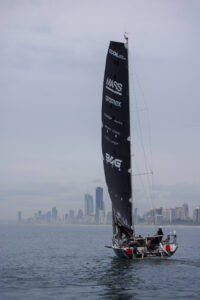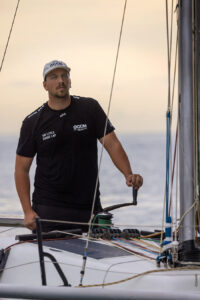 To put this in perspective, Xavier will live aboard a yacht which is just three times his height for over seven weeks as he looks to etch his name into the single-handed sailing history books.
Based at the GCCM at Coomera, Xavier will set out in mid to late April, heading north on a journey which will challenge him at every turn. Thanks to industry leading technology, Xavier will have high level communications for the full journey, meaning sailing fans will be provided with intimate details of the trip at all times.
Media will also be able to communicate with Xavier on a regular basis, providing sponsors and supporters of the Aussie lap with exceptional exposure.
There are three records on the hit list:
fastest time
youngest sailor
smallest boat
Xavier has spent almost twelve months refitting and testing his 21ft high performance carbon fibre offshore racing yacht, with the Mini Transat 650 class yacht designed specifically for high performance sailing.