Off the back of their successful first foray at an international boat show at Fort Lauderdale in October last year, Carbon Game Towers International is diversifying into other carbon fibre products, relying on the range of resins and glues from ATL Composites.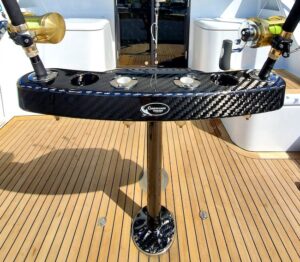 Launched in October 2022, installed on the 40-foot game boat, BACK IN BLACK at an unveiling at The Boat Works, Coomera, the 100 percent carbon fibre tower is the product of two years and thousands of hours R&D.
Led by Levi Duncan and Josh Duke-Yonge, Directors at Ocean Degree Yacht Services, a talented design and production team devised the 8-metre carbon fibre tower which is hailed a ground-breaking innovation – a revolution in game towers.
"The same size built in aluminium could weigh as much as a tonne," Levi explained. "And when the objective is a fast, efficient, lightweight boat, carbon fibre towers are ideal."
The advantages are numerous, he continued. "Carbon composite fibre is prized for its combination of strength and lightness. It is five times stronger than steel due to its strength to weight ratio.
"A 100 percent Carbon Tower is approximately 70 percent lighter than a tower built from traditional materials. A massive saving, as well as being strong, stable, aerodynamic, cool in temperature and cool in looks!"
As part of the Australian delegation through AIMEX and supported by the Gold Coast City Council, Levi travelled to the 2022 Fort Lauderdale International Boat Show, 26 to 30 October.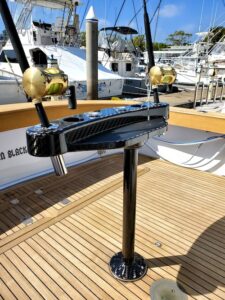 According to Levi, "The American market is extremely enthusiastic about our concepts.
"We have orders and enquiries from the US, Puerto Rico, Mexico and South America. Our carbon fibre game towers really appealed to the game boat builders.
"It's a massive market. We have orders from the largest centre console manufacturers in the US – one brand that makes 400 boats a year – and we will have one of their boats at the Fort Lauderdale Show this year."
While carbon fibre game towers are "not a hard sell", Levi acknowledges carbon fibre game towers are "not for everybody".
"Early adopters, those looking for something different, they see the benefits."
Since 2022 to accommodate demand, Ocean Degree has expanded to an additional, purpose-built factory at The Boat Works, with full infusion laboratory and processing lines for their customised carbon fibre range of products.
Next in the range are 100 percent carbon fibre bait stations and rocket launchers, helm chairs, an ingenious swim platform, and other accessories traditional crafted in teak or fibreglass.
"Wherever those materials are used, we are going to replace them with carbon fibre," Levi said.
"If the aim is to have the boat as light and as fast as possible, with better performance and fuel economy, then carbon fibre is the solution."
Working with the technical team at ATL Composites, Carbon Game Towers International relies on a broad range of resins and glue to achieve the strength and finish of their carbon fibre masterpieces.
Infused with KINETIX R118 resin and H103 hardener, and post cured at elevated temperatures to obtain optimum mechanical and distortion properties, the system produces high-strength, void-free laminates for lightweight applications.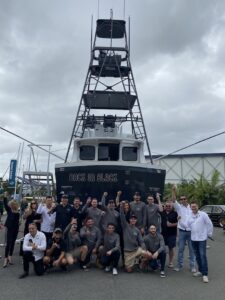 DURATEC Sunshield is also used in mold to provide a high quality and glossy clear and scratch-resistant finish.
"We use ATL products because they're market leading, tested and proven across many industries – from automotive and marine to construction," stated Levi.
"They're local, responsive, very hands-on and provide technical support for every job. We have enjoyed a long-term relationship with them over the past decade."
For more information visit www.carbongametowersinternational.com