Jiang Hui Lin is a talented female sailor from Balmain Sailing Club. Having grown up in Fujian Province, she learned a love boats from being on the water with her grandparents in China. Thanks to her formative childhood experiences, Jiang always knew she'd return to leisure on the water, she just didn't know when.
After emigrating to Australia in her early 20's, Jiang met her husband and moved to the UK where she ran a successful promotions business for almost two decades. Far too busy working to enjoy any of Britain's famous sailing clubs, upon her return to Australia, she started sailing off Balmain. To honour her heritage, she named her first boat Min River –an homage to the beautiful 457 mile-long river that is colloquially known as Blue River. This river flows southward through her hometown, and empties into the Yangtze.
Showing talent in the world of sailing since 2015, Jiang's star is now firmly on the ascent. Currently in France, she is finding success with her new JPK 10.30 Min River, preparing for the Rolex Fastnet Race in late July.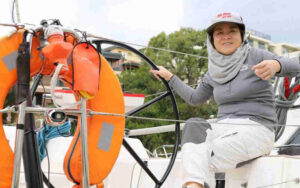 From 18-20 May she competed double-handed in the semi off-shore Armen Race of 310 miles. A record 239 boats lined up on the start of this event, organised by the Société Nautique de La Trinité-sur-Mer (SNT), a total of 828 crew. Three courses were set along western coasts: Nuit de l'Armen (131nm), Armen Race (310nm) and the Armen Ultim (370nm). Min River competed in the Armen Race coming 9th out of 70 boats, a very impressive result. Next, with her sailing partner Aymeric Belloir, she will take on the famous off-shore Rolex Fastnet Race from 22 July, sailing all the way from Cowes on the Isle of Wight, around the rock in southern Ireland, and finishing up in Cherbourg, Normandy.
From France, Jiang chatted to Rolex about her recent accomplishments, new boat and what's driving her forward propulsion.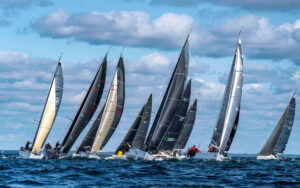 How did you start sailing?
In 2010 I went to the Balmain Regatta and loved the atmosphere there, so I joined the club.
What are you racing right now?
I sold the previous Min River (X4.3) last year and the new Min River (JPK10.30) was launched a little over four weeks ago. There are still bits and pieces to get her ready for Fastnet, but as for her performance during the Armen race last week, she has definitely shown me that we will have lots of fun together.
What drives you to sail as frequently as you do, and to race so often?
Sailing is a hobby that makes my life more interesting. Through sailing, I have met many wonderful people, and for that I am very grateful.
On board how do you split up the work when sailing two- handed?
We share responsibilities as we are co-skippers in double handed races. In this particular Armen race, we discussed tactics together, but Aymeric has more knowledge of the area, so he has put lot more effort into navigation.
Are you only racing these days?
No, I'm not only racing, I love cruising too. But I want to do more races, while I still can.
Are you a competitive person? What drives you to compete?
Other people have said that I am competitive, but I don't see myself that way. But if I like doing something, I just like to give it a 100%.
Rolex wishes Jiang Lin & Aymeric Belloir the best of luck in her Fastnet challenge where she will be accompanied by fellow Australian entrants including; Noakes Group CEO Sean Langman who'll race Maluka of Kermandie and Jules Hall's two-handed J/99 entry Disko Trooper, alongside Paddy Broughton's Kialoa II.