The first Duchy Motor Launch arrived on the shores of Australia on 12th May 2023. The highly anticipated arrival of this stunning vessel marks a significant milestone, as Australian boating enthusiasts now have the opportunity to experience the epitome of British elegance and craftsmanship. With its sleek design, cutting edge features, and impeccable attention to detail, the Duchy Motor Launch is setting a new standard for luxury boating experiences in Australia.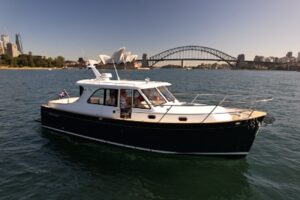 What's special about the Duchy 35 Motor Launch?
The Duchy 35 is classically designed – by Cockwells in the UK, in collaboration with Andrew Wolstenholme. It's a handcrafted, semi-production boat created by skilled craftsmen who combine the traditions of the shipwright with modern luxury, technology and performance.
She is a full-keel gentleman's cruiser, a classic picnic-style boat powered by twin diesel engines and propelled by direct shafts. With its semi-displacement hull, the Duchy 35 strikes a perfect balance between comfortable cruising speed sand impressive fuel efficiency. Meticulously crafted, this exceptionally elegant vessel is truly unique and designed to offer an unforgettable experience on the water.
Featuring a single cabin layout, the Duchy 35 transforms into a luxurious dayboat or weekend getaway for two people. Opting for the twin cabin layout creates a comfortable family cruiser, complete with a well-equipped galley located in the spacious saloon and two double berths below deck.
With solid glass construction, low maintenance GRP hull and deck, the Duchy35 has been laid up to Recreational Craft Directive Category B. This means it is rated for offshore conditions with force 8 winds (74kph) and 4m waves, ensuring its robustness and seaworthiness. It has been rigorously tested and undergone sea trials before handover to ensure its performance and reliability.
Where are Duchy Motor Launches built?
The Duchy Motor Launches are built in Cornwall, a stunning county of Great Britain, by a company that genuinely cares about every aspect of the design and craftsmanship required to construct your dream boat. The hulls are crafted to perfection and built with passion by our skilled tradesmen. As a boatyard with a background of building custom Super Yacht Tenders, they have the large portfolio demonstrating their skills and unique design strengths. Duchy Motor Launches stand out as truly exceptional and remarkable vessels due to their timeless appeal and unparalleled craftsmanship. Each boat is handcrafted with solid timber joinery, boasting a full timber interior and cabinetry that exudes elegance and sophistication. The attention to detail is evident with premium dove-tail joints which ensure the highest level of strength and durability.
Furthermore, the decks of Duchy Motor Launches are dry-fit to perfection, resulting in flawless alignment and seamless integration. Even the engines, are dry-fitted to achieve utmost accuracy in alignment and performance. This commitment to precision engineering ensures a smooth and reliable boating experience.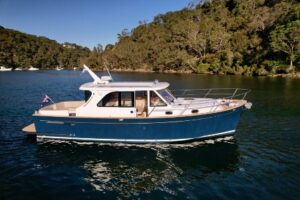 Duchy 35 Specifications:
Kookaburra, the first Duchy 35 to arrive in Australia, showcases an exceptional array of features. Spec'd with composite teak decking (Flexiteak) and composite capping rails, it offers a low-maintenance solution without compromising on aesthetics. Equipped with a Sea keeper gyro, Kookaburra ensures stability even in challenging weather conditions. The upgraded YanmarV8 engines provide a top speed of 32 knots, supported by a 1100L diesel tank. Designed to handle rough waters, Kookaburra is rated for 12 people even in 4mswells. Fully loaded with amenities, this exceptional vessel is ready to take you wherever you dream to go!
"Built in my home village, it's a joy to share with everyone this stunning range of vessels, which are essentially a piece of home. We work hard to ensure that they are spec'd just right for Australian conditions and I'm proud to say that they're properly built." said Samuel Davis, Owner of Davis Marine Brokerage
Davis Marine Brokerage, the exclusive distributor for Duchy Motor Launches in Australia, is a small yet highly dedicated and experienced team based at Roseville Bridge Marina. With a passion for boating and a commitment to excellence, they have earned a reputation as a trusted name in the industry. Davis Marine Brokerage has accomplished a significant milestone by successfully completing the delivery of the first Duchy 35. Their expertise, attention to detail, and unwavering dedication ensure that customers receive exceptional service.
Who sells Duchy Motor Launches?
The owners of Kookaburra couldn't contain their joy when the long-awaited Duchy 35 finally arrived. Their faces beamed with delight as they stood in awe of their beautiful new boat. The anticipation had built up over time, and now they were filled with excitement for the incredible adventures that lay ahead.
"To buy a Duchy Motor Launch isn't just a treat for yourself, it's something everyone can enjoy. People appreciate things of beauty and the Duchy range does this perfectly –blending classic lines with the best-skilled workmanship and materials. Everywhere you go, people will smile and turn their heads to admire. Being on the water in one of these is simply a wonderful experience" said Samuel Davis, Owner of Davis Marine Brokerage
Duchy 35 review:
"We love it! The boat itself is even better in real life – the pictures don't do it justice. Everywhere we go, we get smiles and admirers. This the best decision we've ever made!" said Owners of Kookaburra
The arrival of the first Duchy to Australia presents a unique and exciting opportunity for Aussie buyers to buy a boat from a sought-after and exclusive brand . With its remarkable success in Europe, the demand for these exquisite boats continues to grow. As the order books steadily increase, the second factory site is expanding its capacity to meet the demand. While Kookaburra took a year to arrive, waiting times for new orders are anticipated to take approximately 18 months to be built and delivered. If you value something of beauty that can perform to the level you need, the Duchy 35 is truly great news for you.
For more information visit: www.davismarine.com.au