With indoor exhibition space now almost at capacity, and close to 200 boats appearing on the marina at Cockle Bay, the 54th Sydney International Boat Show returns to the International Convention Centre at Darling Harbour from 3 to 6 August 2023 with an incredible line-up to satisfy all those who love being in, on and around the water.
The latest and greatest in trailer boats, power cruisers, kayaks, tinnies, sail boats, fishing gear and more, rounds-out the most extensive and diverse collection of watercraft and accessories seen in Sydney.
Leading Australian and New Zealand dealer Eyachts is set to make a splash at the Show with their biggest showcase on record, featuring three exciting brands: RAND, Axopar, and Pardo.
RAND is renowned for electric boats and sustainable manufacturing techniques. By combining sleek Scandinavian design with sustainable principles, RAND creates a contemporary range of luxury power boats that offer a real and viable alternative to traditional internal combustion engine vessels with silent and emission free cruising. The team at Eyachts are excited to showcase the Australian premiere of the RAND 28 this year's Show.
Axopar's award-winning day boats, ranging from 22 to 37 feet, offer sleek, trailerable design coupled with superior handling and comfort. The Axopar 25 Cross Top introduces a cuddy cabin for enhanced usability, while the Axopar 28 is the ultimate leisure boat, perfect for water sports and relaxation. For those seeking speed, comfort, and adventure, the Axopar 37 delivers on all fronts.
Finally, Eyachts proudly presents the Italian entertainers of Sydney Harbour, the Pardo 38 and Pardo 43. The Pardo 38 exudes elegance and power, with a spacious interior. Combined with a choice between sterndrive or outboard propulsion systems, the Pardo 38 offers a range of engine combinations, while the Pardo 43 impresses with innovative features, exceptional performance, and luxurious interiors, showcasing the finest craftsmanship and Italian design. Witness these new ground-breaking boats firsthand on Cockle Bay Marina at the Show.
For those who might prefer spending time below the surface, Underwater Australasia invites you to dive-in, explore and discover. Whatever underwater gadget you might desire, Underwater Australasia supplies a diverse range of sea scooters, underwater drones, underwater cameras, photography accessories and more.
Making its Australian premiere at the Show, the FiFish V-EVO by QYSEA underwater drone represents some of the latest technology available to divers and non-divers alike. The FiFish V-EVO is compact, easy to manoeuvre and versatile. With many add-on tools to manipulate its environment and collect samples up to 100 metres, it is one of the latest gadgets Underwater Australasia has at the Show.
Another Australian premiere is the Nomad Mini, a compact, but powerful dive system, the newest addition to the BLU3 product line. There's no need for Scuba tanks as this unit will supply plenty of air, up to 5 metres below the surface. And since we all now carry an amazing camera in our pockets, the SeaLife SportDiver housing enables anybody to take their smartphone underwater. These and plenty more dive accessories are available at the Underwater Australasia stand in the ICC Halls at the Show. You can also witness them in action on the Main Stage each day during the Show.
Vicsail returns to the Show in 2023, with the Australian premiere of the stunning Vicem 55 Classic. This vessel exemplifies the perfect harmony of masterful craftsmanship, impeccable finish, and exceptional performance. The Vicem 55 Classic sets a new standard in yacht construction with a beautiful 'sea-kindly' hull drawing on traditional design and modern and innovative technology. At 55 ft in length with a 16 ft beam she is nothing short of impressive. The spacious layout ensures comfortable accommodation for 6 guests. Both cabins with ensuite bathrooms provide privacy and comfort. The blend of classic and contemporary design elements creates an ambience of luxury and quality. High-gloss mahogany finishes give a warm, welcoming atmosphere.
The Vicem 55 Classic has a generous cockpit area with a beautiful teak dining table, L-shape seating, BBQ and additional fridge, making it perfect for enjoying meals and drinks with family and friends. An additional feature is the large swim platform providing easy and comfortable access to the water. The deep V-hull and sleek lines ensure a smooth and safe ride, even with rough conditions. The Vicem 55 Classic is fitted with twin Volvo Penta IPS 700 engines giving a top speed of over 28 knots. Manoeuvring is made easier with the fitted bow thruster. It's an ideal combination of classic style, modern engineering, and unbeatable performance. This impressive vessel will make a significant impact on Cockle Bay Marina at the Show.
Another exciting way to enjoy more time on the water is with shared boating. Pacific Boating offers various levels of membership allowing members to access the experience of luxury cruising for a monthly subscription. Premiering at the show, Pacific Boating is announcing a new class of membership which incorporates the Australian launch of the Sea Ray Sundancer 320OB, also being added to the Pacific Boating fleet. Catch never-offered-before promotions making it easier and more affordable for people to become members and enjoy the boating lifestyle.
The Sundancer 320 Coupe Outboard itself continues a bold new chapter in the Sundancer story, blending the values of a cruiser, a sport boat, and bow rider into one compelling and harmonious package. Thanks to an inventive re-examination of deck architecture, the bow area is more usable than ever before. Meanwhile, the cockpit affords effortless, versatile enjoyment of the water, and the cabin provides a comfortable place to shelter from sun on hot summer days. A true natural, the Sundancer 320 Outboard reimagines the possibilities of how a cruiser can look, feel and perform.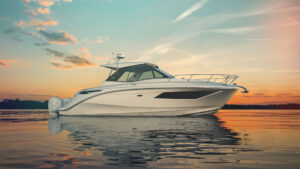 Take a look at the Sea Ray Sundancer 320OB on Cockle Bay Marina at the Show, as Pacific Boating continues its mission to bring the joy of boating to more Sydneysiders.
With more exhibitors confirming their participation every day, the 2023 Sydney International Boat Show is shaping up to be a true celebration of all things boating.
This year, tickets are available online only – there will not be a box office at the Show. One-day early bird tickets are available now until 26 July from $25 (Children under 16 years of age are admitted free with a paying adult). Early bird ticket purchasers also have the chance to win $10,000 in 'Boat Show Dollars' to spend with an exhibitor at the show.
The Sydney International Boat Show is presented by the Boating Industry Association Ltd (BIA) and Mulpha Events, and proudly supported by Partner in Safety – Transport for NSW, along with
official event partners National Storage and Walcon Marine.
The Sydney International Boat Show is on from 3 to 6 August 2023 at Darling Harbour.
For more information visit sydneyboatshow.com.au
To keep up to date with all marine industry news visit www.marinebusinessnews.com.au