Marine Rescue NSW volunteers from the Shoalhaven unit have rescued a 70-year-old man after his vessel began taking on water as he attempted to help a friend whose yacht broke a mooring on the Shoalhaven River and ran aground on Pig Island earlier this evening (26 June, 2023).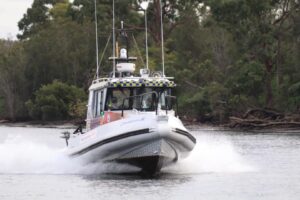 The man's tinny became disabled in atrocious conditions.
A volunteer crew on board Shoalhaven 20 responded to a call for assistance and rescued the man.
He was taken by SA 20 to Nowra Public Wharf where he was met by NSW Ambulance paramedics for assessment.
The Shoalhaven 20 crew then recovered the yacht before returning to base just after 9pm.
Marine Rescue NSW Inspector Stuart Massey said the Shoalhaven crew did an exceptional job in challenging conditions.
"It was extremely windy and cold but our volunteers used their skill and night training to rescue the man and deliver him to shore while the Shoalhaven unit's Radio Operator coordinated the rescue operation with precision.
"The teamwork shown by the Marine Rescue Shoalhaven members involved in this challenging mission was excellent," Inspector Massey said.
For more information visit www.marinerescuensw.com.au
To keep up to date with all marine industry news visit www.marinebusinessnews.com.au