The 900-strong team at Riviera, Australia's luxury motor yacht builder, has celebrated outstanding teamwork at the recent Sanctuary Cove International Boat Show with a special luncheon at the company's Gold Coast facility.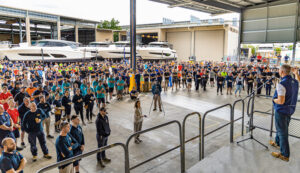 Company owner Rodney Longhurst praised the entire team for their drive to create the ultimate boating experience for Riviera yacht owners and showcase visitors.
He said it required extraordinary teamwork to prepare the largest showcase of new motor yachts at the show, to create an inspiring atmosphere for visitors from across Australia and around the world and to bring to life the boating education on-water workshops, seminars and glittering social events for Riviera's exclusive owners Festival of Boating during the show.
Addressing the assembled team, Mr Longhurst said: "My belief over the past 12 years of ownership has been that through our unity we are smarter and harder-working and as a result, we can create greatness that our yacht owners truly appreciate. And you have done just that – not only in the lead-up to the show and over the four days, but every day you come to work here at Coomera.
"The World Premiere of 585 SUV was outstanding and our fleet of 11 Sport Yachts, Sports Motor Yachts, SUVs and flagship Motor Yacht from 39 to 78 feet, was the finest we have ever displayed.
"On the opening day of the show we also announced our next new model that will premiere in late 2023, the magnificent 58 Sports Motor Yacht.
"Your combined efforts have made Riviera a world-class luxury boat builder. And it's everyone here, the laminators, the engineers, electricians and boat builders, our receptionists, customer care team and the many people who work behind the scenes to help create our excellence. Every position and every place, you are all a part of what makes Riviera special, that's what makes it a family for our owners and for us, our team here onsite. This is something that we should all be extremely proud of.
"Please applaud yourselves for you are the ones who are creating our future. You are the team who are truly making Riviera world class. You are always appreciated, you are always respected and highly regarded by me, and the entire senior team each and every day."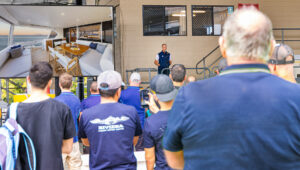 The appreciation for the Riviera teams efforts was also expressed by Riviera owners during and following the show.
"There's not much in the world that equals a Riviera. We'll always be a Riviera family", the Huston family from Papua New Guinea.
"It's just nice to see details getting better every time. Details of the design and details of the interior. It's very nice to watch that happening", Jacky Dijk from Thailand.
"We love the Riviera brand. We purchased a 505 SUV and wanted to upgrade to the 585. We love the fit and finish of the boat and that's what made us come here from America. We're experienced 40 years in boating, we examined 20 or 30 different models before we go here and this just have us all the fit and finish that we were looking for; inside the boat, in the engine room and the details that we were looking for.  We've been made to feel so welcome by everybody. It is like a family, it truly is a family," Joe and Heidi from America.
"The best part of having a Riviera is the follow-up service, its amazing. Whether you've got a new boat or a second hand boat. Once you've got a Riviera boat your part of the family. They make you feel so welcome and there is so much to learn and they are there to help you every step of the way. I just love it", Kristie and Dale Stott from Australia.
For more information visit www.rivieraaustralia.com