Several sailors have been recognised for their outstanding service and achievements in the 2023 King's Birthday Honours.
The Order of Australia recognises Australians who have demonstrated outstanding service or exceptional achievement.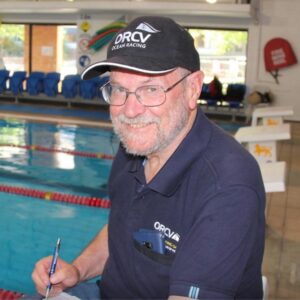 Known as a quiet achiever, Robin Hewitt has been exemplifying excellence and an unwavering dedication to the sport of sailing for over 40 years. An inspirational figure in the sailing community, Mr Hewitt was honoured at the 2021 Victorian Sailing Awards with a prestigious Lifetime Achievement Award, and can now add the letters OAM to his name following his recognition in the King's Birthday Honours.
Master Shipwright William Leonard migrated from Scotland to Fremantle in 1986 and is also amongst those recognised for his extensive and detailed contribution to the Australian sailing landscape.
Employed by the Australian Maritime Museum shortly after his arrival in Australia, Mr Leonard researched and restored many in the museum's extensive collection of vintage and historic vessels up until his retirement.
John Stanley, former Australian 18-footer champion, highly experienced international yachtsman and skilled historian has also been recognised with an Order of Australia Medal for his varied and celebrated contributions.
"I am delighted to see such magnificent contributors to the sport of sailing recognised in the latest King's Birthday Honours list", said President of Australian Sailing, Alistair Murray AM.
"Our sport is so much stronger thanks to the contributions of the likes of Robin Hewitt, William Leonard, John Stanley and Roger Badham.
"Of the three, Robin is best known to me as a recent recipient of a Lifetime Achievement Award from Yachting Victoria. He has taught essential sailing skills to some 3,500 sailors in his 20 years as Chief Trainer at the Ocean Racing Club of Victoria, and he has clocked up countless miles and victories in his yacht Yoko over the past 35 years.
"William Leonard has contributed enormously as an historian at Fremantle Sailing Club and John Stanley to the 18-footer class, where he is a class legend. Affectionately known as "Clouds Badham", my congratulations also go to Dr Charles Badham, an absolute legend in sailing through his contribution as a meteorologist, serving countless sailors and events.
"All of us at Australian Sailing and in the sport of sailing salute you!", Mr Murray finished.
Those recognised for their contribution to sailing or yachting, and other sailing club members on the King's Birthday 2023 Honours List include:
Medal (OAM) of the Order of Australia in the General Division
Dr Charles Roger Badham (Wollongong Yacht Club, NSW) – For service to science as a meteorologist.
Mr Robin Hewitt (Ocean Racing Club of Victoria, VIC) – For service to sailing.
Mr William McDonald Leonard (Fremantle Sailing Club, WA) – For service to community history through boat restoration.
Mr Donald Graham Rumbelow (Victor Harbor Yacht Club, SA) – For service to the community through a range of organisations.
Mr John Stanley (Sydney Flying Squadron Ltd, NSW) – For service to sailing.
Australian Sailing is delighted about their well-deserved recognition.
For more information visit www.sailing.org.au