By Sarah Staerk
The 34th edition of the Sanctuary Cove International Boat Show (SCIBS) has cemented its position as the Southern Hemisphere's leading boating and marine showcase, boasting impressive attendance, exceptional sales and a vibrant, festival atmosphere.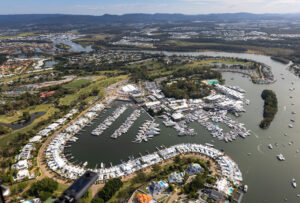 Over four action-packed days, SCIBS 2023 attracted 47,345 visitors who flocked from all over the globe to view thousands of marine products, and an impressive 740 vessel lineup, including an all-time record of 315 boats on water and over 100 Australian, Asia-Pacific and World premieres.
"The feedback we're receiving from exhibitors and visitors is extraordinary, and the exceptional growth of the event supports that. SCIBS is recognised by the industry as a must-attend event on the international boat show calendar, providing an unparalleled opportunity to market and sell products whilst showcasing the boating lifestyle," said SCIBS General Manager Johan Hasser.
Mr Hasser said the enthusiasm from exhibitors for the Show has been a driving force behind the ongoing investment in Sanctuary Cove by parent company Mulpha Australia, including the recent expansion of the marina to include an additional 28 berths and the upcoming development of another superyacht arm by the new year.
"The Show is very much a collaboration between everyone involved – us, our sponsors and partners and exhibitors. We're passionate about ensuring an exceptional visitor experience and the best platform for exhibitors to showcase their products to an engaged audience. It's proved to be a very successful strategy, with this year being our biggest and best in our 34 year history."
Greg Haines from Princess Yachts says his team believes SCIBS 2023 has produced some of the strongest leads of any boat show they have participated in.
"SCIBS 2023 has been wonderful," Mr Haines said. "Thursday was probably the busiest day I have ever experienced in the 34 years I have been coming to SCIBS. And the quality of the visitors is exceptional. My team advised me that this year has presented us with the highest quality leads we have ever had at the Show, and some of the team went further to say they have received the best quality leads of any boat show we have attended.
"We are finding there is a lot of interest in the bigger boats – boats above 65 feet. We held the Southern Hemisphere launch of the Y72 at this year's Show which has been really well received. We have five or six people interested in purchasing the Y72."
Stephen Milne from local luxury motor yacht builder Riviera Australia says the show has been a huge success for the renowned brand.
"It has just been a tremendous show for Riviera," Mr Milne says. "The weather has been incredible; the crowds have been very strong and the feedback and interest in the Riviera motor yachts of today, has never been stronger.
"SCIBS 2023 has been a wonderful opportunity to display the finest fleet of Rivieras that we have ever showcased at a boat show. We displayed 11 yachts, from 39 to 78 feet. The reaction to the fleet and particularly our world premiere – the 585 SUV – has been exceptional.
"The Show as always has been very strong for us. Many of our Riviera owners are already Riviera owners – we have people who have owned multiple Riviera yachts over their boating journey, so they love to come to the Show to see what is new and different from Riviera. Today people are thinking and planning well ahead about their next yacht and their boating adventurers. The interest in Riviera we experienced at the Show this year was exceptional."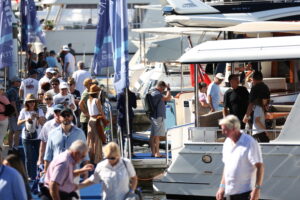 This year, luxury local boating brand Maritimo, say they saw more people through their display than ever before.
Maritimo Managing Director Tom Barry-Cotter says his team has been thrilled to see the response to their range.
"It has been great to see such strong sales interest in Maritimo," Mr Barry-Cotter said. "The leads have been very strong and while we are still tallying, it could be a record number of sales from this year's SCIBS which is just fantastic. The sales generated from this Show will be keeping us busy for the next few years.
"SCIBS is really living up to its reputation of being a truly international show – we have had visitors from around the world – Southeast Asia, the USA, Europe and New Zealand, as well as interstate. Our bigger boats in particular have been received extremely well."
Mr Barry-Cotter said Maritimo also used the Show as an opportunity to expand their team.
"We have also been actively looking for more staff, and engaging with people who are interested in a career in boating."
Erica Rae of Horizon Yachts says SCIBS has generated over $40 million in sales just the first three days.
"This has been the busiest Show we have had in the past five or six years," Ms Rae said. "It has been phenomenal; the number of enquiries we have had come through. The crowds have been extraordinary, it has been really very busy.
"The quality of leads has also been really strong. We don't usually sell a lot of boats at the Show because we are custom builders, so it is usually a two-to-three-month process, but we have already sold three boats – an E88 Sports Yacht, and FD80 and an FD90 – just over the first three days, and we are expecting the coming months to see more sales generated from SCIBS.
"Even our biggest boat, we have three very solid leads on that boat. It has a purchase price in the tens of millions of dollars, so there are a very limited number of people in a position to make that purchase. The fact we have three very strong leads on that is a testament to the quality of the Show and the kind of audience it attracts."
Mark Elkington, CEO, Multihull Solutions and The Yacht Sales Co said SCIBS 2023 has achieved outstanding results for his companies.
"This year's Sanctuary Cove International Boat Show was a resounding success for our companies with visitor numbers exceeding expectations," MR Elkington said.
"Appointments to inspect our Fountaine Pajot sailing catamarans and motor yachts were in very high demand with strong sales in progression across the range.
"The Absolute Yachts 47 Fly enjoyed huge interest, which is a great result for the first time it has ever been displayed at SCIBS. Dufour Yachts also received a lot of attention from the yachties with several orders on various models expected to be finalised following sea trials this week.
"Our ILIAD Catamarans team was inundated during the show as the new ILIAD 53S commanded attention and a number of orders were taken across the range.
"It was wonderful to welcome dozens of owners who are currently waiting on the arrival of their new yachts, and the entire team felt this was the best show we have experienced since 2018."
Brent Vaughan, Director at Multihull Central said his team was "overwhelmed" with interest in the new HH50 Catamaran.
"SCIBS was the Australian launch of the brand and the first time a HH Catamaran had displayed at a boat show in Australia," Mr Vaughan said. "With around 200 back-to-back appointments during the course of the Show, orders were placed on a range of HH Catamarans, including the ever-popular Seawind, and up and coming Longreach. In total, sales valued to approximately $16 million during the course of the show.
"It was a great event in perfect weather, well attended by both boat buyers and exhibitors, with a big display on offer. It feels like boat shows are back in full force!"
SCIBS 2023 also marked a momentous milestone with major partner Bentley Brisbane & Gold Coast, which celebrated over a decade-long association with the Show. Bentley Brisbane & Gold Coast Group Marketing Manager Rebecca Henry said the luxury marque was delighted to continue their ongoing partnership with this luxury marina lifestyle event.
"The atmosphere at SCIBS this year was electric. Our engagement and attendance from our Bentley owners were at an all-time high this year. In the suite the Continental GTC Speed and the all-new Flying Spur Hybrid were the centre of attention and enquiry continued to build for the Bentley Mulliner commissioning program," Miss Henry said.
Ian Tricker, Director of TR Marine Sydney and Gold Coast said he could not fault the Show.
"It was a fantastic Show; the weather was brilliant and attendance was very very strong," Mr Tricker said. "The organisers have done an amazing job of pulling everything together=. It was a very successful Show for TR Marine and we will 100% be back."
Tom Niederer, General Manager of JSW Powersports says the Show has generated strong sales for the watercraft and powersport's company.
"JSW Powersports has been received really well at SCIBS 2023," Mr Niederer said. "We have seen a significant increase in quality enquiries from last year, consumer confidence is strong, and we have had a lot of people coming through not just looking but wanting to purchase.
"Our team has sold over 66 PWC units, 21 boats and 45+ Sea Doos, as well as a mix of Sea Fox, Malibu, Seabob and Fliteboard. And of course the new Sea-Doo Switch – for which we had the Asia-Pacific launch this year. We held on-water sea trials for the Switch and the crowd loved these. They were coming back and securing one with a deposit to get on the waiting list.
"All in all, it was an extremely positive Show for us."
Andrew Bennett from Queensland Marine Centre also experienced significant sales over the Show.
"We had a great show," Mr Bennett said. "All four days, we had very consistent traffic. We had a large number of sales executed during the show, and because the boats that were on display were available, our new customers will be on the water very soon."
The Sanctuary Cove International Boat Show 2023 also saw an extraordinary milestone with the highly successful launch of Sanctuary Cove's first ever waterfront penthouses, the exclusive unveiling of two luxurious residences that crown the Harbour One apartments and overlook the stunning Sanctuary Cove marina.
The overwhelming response to the launch reaffirmed the market's appetite for luxury living, and the continuing allure of Sanctuary Cove as a premiere residential destination, as well as Sanctuary Cove International Boat Show's reputation as a platform for showcasing the finest luxury offerings, both on and off the water.
"The Boat Show was the perfect place for us to launch these spectacular penthouses, it is a truly international event, appealing to a very discerning audience – which is the perfect fit for the Harbour One penthouses," said Barry Teeling, Development Director at Mulpha Australia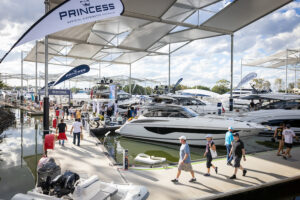 With another successful event now under their belts, Mr Hasser emphasised the economic impact of SCIBS 2023, highlighting its influence on the event, tourism, and marine sectors. The show continues to fuel marine sales, create employment opportunities, generate tourism revenue, and increase visitor nights in the region.
The Mulpha Events team have already turned their focus to next year's Show, with plans to make it even bigger and better.
The 35th Sanctuary Cove International Boat Show will be held from May 23-26, 2024. For more visit sanctuarycoveboatshow.com.au
Click here to see the full SCIBS 2023 photo library
The Sanctuary Cove International Boat Show is owned and operated by Mulpha Events and is proudly supported by the Queensland Government, Tourism & Events Queensland, City of Gold Coast, Major Events Gold Coast and Major Sponsor Bentley Brisbane & Gold Coast.