Scott O'Hare has been elected as Boating Industry Association of Victoria (BIAV) President.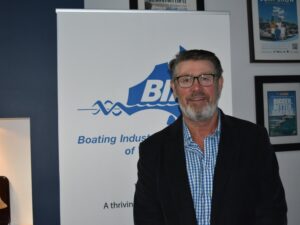 This follows Scott's two-year tenure as Vice-President, and extends his seven year role on the BIAV Board. The appointment also complements Scott's long and passionate involvement in the boating industry, where he's had many and varied roles. With his wife Dani, Scott currently owns and runs the highly regarded Aussie Boat Sales, and is a Director at The Anchorage Marina. He's represented both the Boat Dealers and Clubs/Marinas at Board level and has been part of several committees and work groups. With Aussie Boat Sales, Scott is also a prolific boat show participant and exhibitor. He employs staff across sales, maintenance, workshop, and apprenticeships, and is currently developing a drystack aspect of his business. He's been in the commercial houseboat industry, is an avid sailor, and keen tow sports participant.
Scott is passionate about the industry, is invested in improving infrastructure and access to waterways. Upon election Scott stated, "It's a great privilege to be nominated and elected to this role and I look forward to working with the Board and team to support our members, build relationships, and strengthen our industry."
In just his second year at Board level, Michael Neumann was elevated to the role of Vice-President. Michael is the General Manager at Royal Yacht Club of Victoria (RYCV), and represents the Clubs/Marinas division. Michael has extensive experience across yacht and boat club management, boating participation, inclusive practices, and governance. He's a certified Marina Professional, with vast experience across Royal Melbourne's marina redevelopment, as well as the Sydney to Hobart Yacht Race. His club, RYCV, has seen major membership growth, member satisfaction improvement, and major infrastructure planning since he commenced the role in 2019.
Scott and Michael lead the dedicated BIAV Board consisting of Daved Lambert, Neil James, Franz Grasser, Michelle Reid, Peter Buckingham, and CEO Steve Walker. Details HERE