With the spectacular Whitsundays winter months well underway, the much-anticipated arrival of our winter humpback whales are not the only annual migration the Whitsundays waters have welcomed this year.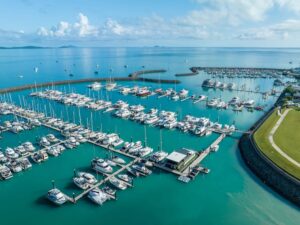 As many cruising yachts have arrived to enjoy and explore our tropical backyard for a winter of fair winds and sunny skies, Coral Sea Marina has announced the return of the "Better Boating" series of free training events, as part of the Coral Sea Academy.
Following the success of the "Better Boating" series in previous years, the Coral Sea Academy welcomes back partners, Mainstay Sailing and Volunteer Marine Rescue Whitsundays, who will, over the coming months from July – September, provide an opportunity to encourage better boating practices and increase confidence on the water through a series of informal, fun and engaging sessions.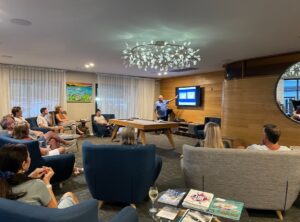 With boat ownership in Queensland on the rise we have seen incredible demand for marina facilities across the state post Covid19", explains Joscelyn O'Keefe, Head of Marketing and Business Development at Coral Sea Marina.
"Many of our new marina customers are first time boat owners and may not have a lot of practical experience and the same could apply to members of the community who have recently bought a boat or are thinking of doing so. Our Better Boating Series offers a range of free basic marine training to marina guests, visitors and the local community so when people get out on the water they do so safely."
Whether you've been sailing for decades or you've just purchased your first boat, the Better Boating series aims to target every level of experience. The sessions are all free, informal and designed to be enjoyable for all who attend.
From boating basics such as radio or tender operation, through to an introduction on navigation, these sessions allow people to increase their boating knowledge, learn additional skills, gain confidence and network with like-minded crew.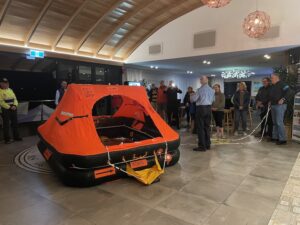 The Better Boating series will take place throughout the winter cruising season, and kicks off with the return of a crowd favourite "Ropes and Rum" on Tuesday 4th July, from 5.30pm at Coral Sea Marina's The Lookout Lounge, hosted by Mainstay Sailing. Learn the ropes (literally) and enjoy a practical evening of ropework, knots and splicing.
Click Here to Register for Ropes and Rum!
Next on the calendar the following fortnight (Tuesday 18th July) will be Safety at Sea, hosted by the Volunteer Marine Rescue Whitsundays. This event will include great tips and advice, plus an exciting practical demonstration with a working life raft, thanks to Whitsunday Ocean Services.
Click Here to Register for Safety at Sea!
"Volunteer Marine Rescue Whitsunday often see plenty of incidents that could easily have been avoided with better planning and preparation", Ken Bryce, skipper of Volunteer Marine Rescue Whitsundays explains.
"This event is a great opportunity for boaters to receive an educational experience in an informal environment so they will be better equipped with knowledge that could potentially help them have a safer and more enjoyable experience whilst out and about on the beautiful Whitsunday waters. It may allow them more peace of mind and let them enjoy their Whitsundays experience to the fullest."
New to the calendar this year, and to finish up the series in September, will be a brand-new topic on Basic Boat Maintenance. As the typical cruising season comes to an end, this free information event on Tuesday 19th September, will give insights, maintenance schedules and contacts of local suppliers and services to ensure that your pride and joy remains spick-and-span ready for the next on-water adventure.
Click Here to Register for Basic Boat Maintenance!
Better Boating events are designed to encourage boaters to invest their time in learning more about the essential aspects of responsible sailing. Combined, they promote personal well-being, protecting the environment, and aims to enhance the overall enjoyment of the sailing experience.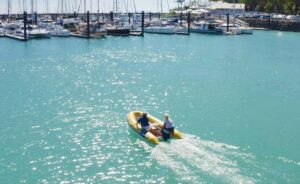 "I would encourage anyone who has an interest in boating and just wants to brush up on their knowledge to take advantage of these sessions", explains Ms O'Keefe.
"All levels of ability are welcome and you might just meet some like-minded people who you can share your boating experiences with. We partner with local experts from Mainstay Sailing and VMR to ensure the content is relatable and relevant and the sessions are informal and basically a lot of fun!"
For more information visit www.coralseaacademy.com
To keep up to date with all marine industry news visit www.marinebusinessnews.com.au