The 10th Australia Tahiti Rendezvous, sponsored by Benetti Yachts, was held on Friday July 7, 2023, at Marina Taina, Papeete, Tahiti. The event drew a gathering of 27 vessels, attracting superyacht captains and crew from around the world. The occasion provided a strong platform for crews and industry professionals to receive updates on the Australian superyacht sector while participating in a day filled with festivities.
David Good, CEO, Superyacht Australia said "As a central hub for superyachts in the South Pacific, French Polynesia is critical for attracting many vessels into the region offering idyllic cruising grounds around their islands. The Tahiti Rendezvous provides a platform for Superyacht Australia members to connect with the visiting superyachts and to encourage them to utilise Australia's service and support businesses, hopefully extending their stay in Asia Pacific."
Good added "We are thrilled at the success of the latest Tahiti Rendezvous, where our members met with 27 vessels, the largest number ever for this event. It's exciting for everyone to see so many superyachts in this region again. We need them to know the full gambit of services available to them in Australia including the vast array of experiences and destinations Australia has to offer."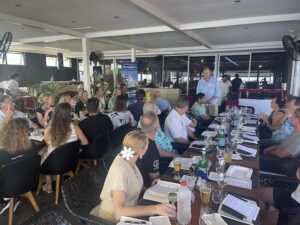 The event kicked off with a 'Morning Tea Expo' at L'Ínstant Présent, followed by the Rivergate Marina & Shipyard's VIP Captains' Lunch. The lunch had a total of 33 attendees, including nine superyacht captains, who took the opportunity to be updated on the latest developments in the Australian superyacht industry and learn more about why Australia is an ideal charter destination while cruising the South Pacific.
Steve Fisher, Director of International Business, Rivergate Marina and Shipyard, said, "It was wonderful to return to Tahiti for the 10th celebration of the Australia Tahiti Superyacht Rendezvous. To reconnect with our Tahitian superyacht industry friends, our Australian colleagues, and the superyachts visiting French Polynesia, is an incredible opportunity for Rivergate Marina and Shipyard. The high quality and substantial number of yachts attending this year's gathering speaks volumes for the future of this annual event and the industry itself."
Fisher also noted that "It was encouraging to see so many new young owners on these yachts and to realise that many of these wonderful vessels are manned by young Captains and even younger crew. This all speaks well for the future of the superyacht industry; the new generation has arrived!"
In the lead-up to the 2023 Australia Tahiti Superyacht Rendezvous, Fisher commented, "I have been coming to French Polynesia for over 10 years, and the superyacht fleet visiting Tahiti this year was at least a third bigger than I had ever seen previously."
Many of the yachts indicated that after they had finished their cruise in Tahitian waters, they were sailing westward with Australian shores firmly on their radar, including visiting Brisbane and the extensive cruising grounds around Australia.
The evening's events began with The Superyacht Group Great Barrier Reef's (SYGGBR) BBQ cooking competition, which highlighted the talents of six competing crews. Participating vessels included SY Nirvana Formentera, MY Ginette, MY Paladin, MY Formosa, MY Lind, and MY Masteka2.
Each team utilised Australian beef and spices to conjure up the best dish, impressing a panel of three judges comprised of Kathleen Ferguson (SYGGBR Chair), Amber Smithson (Coral Sea Marina Resort – SYGGBR Member), and Carrie Carter (Carter Marine Agencies – SYGGBR Member). The coveted first place in the cooking competition was secured by MY Lind who skilfully incorporated each and every Australian spice provided while highlighting their local Tahitian ingredient, coconut. MY Masteka2 was a close second place while SY Nirvana Formentera won the Best Entertainment Award and MY Formosa the Best Overall Aussie Presentation Award.
The BBQ Cooking Competition transitioned into the now infamous networking Dock Party with all crews mingling, together with both the Tahitian and Australian industry representatives. The presentations and festivities were elevated with a traditional Tahitian dance performance organised by Tahiti Tourism, accompanied by lively music from a local band.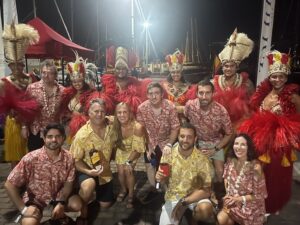 James McPhail, Managing Director of Pantaenius Yacht Insurance, and a first-time attendee, expressed his delight, saying, "This event offers a fantastic opportunity to meet captains and influencers in a relaxed environment. Owners and captains are always seeking options for refit, replacements, service, and maintenance, and this event provides the perfect platform to engage directly with decision-makers. We are truly impressed by the potential this event holds."
Superyacht Australia extends its appreciation to the sponsors of the event: Benetti Yachts, Rivergate Marina & Shipyard and Superyacht Group Great Barrier Reef. Furthermore, Superyacht Australia would like to thank the Australian businesses in attendance, including Carter Marine Agencies, Coral Sea Marina Resort, Echo Yachts, Melanesian Luxury Yachts and Pantaenius Yacht Insurance.
Special recognition is also given to the local superyacht industry in Tahiti, whose significant contributions have impacted the overall success of the event. Tehani Fiedler-Valenta, owner of Tahiti Crew; Tahiti Ocean, Tahiti Yacht Support, and Seal Superyachts Tahiti, as well as Manoa from Tahiti Tourism, deserve a special mention for their exceptional support throughout this year's festivities.
To keep up to date with all marine industry news visit www.marinebusinessnews.com.au