The Boating Industry Association of WA has announced the 2023 Club Marine Perth Boat Show will be on 15-17 September at Perth Convention and Exhibition Centre and Elizabeth Quay
The Club Marine Perth Boat Show is becoming recognised as the major boat show for WA and is well supported by the marine industry locally and nationally.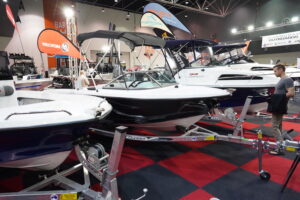 The Club Marine Perth Boat Show promotes the amazing boating lifestyle in Western Australia by equipping visitors with everything they need to get in to boating, with the latest boating and fishing information and advice, interactive activities for all ages, demonstrations from experts, the opportunity to do their recreational skipper's ticket test at the Show, plus advice on travel and destinations.
BIAWA President Sheryl Swarbrick said they are extremely pleased that this year's Show will not just be contained to indoor displays inside Perth Convention and Exhibition Centre, but will again include displays and activities in Elizabeth Quay, which Sheryl says will be a significant enhancement to this year's Show.
"After a three-year hiatus, Elizabeth Quay is now available as an option for on-water displays, and we look forward to this new addition being a great enhancement to the event," she said.
"With free family activities in Elizabeth Quay including Discover Sailing, on-water demonstrations, and other new activations, this year's event has something for everyone and is sure to draw in the crowds."
Sheryl said the BIAWA are all looking forward to presenting a bigger event than ever before.
New release boats and marine products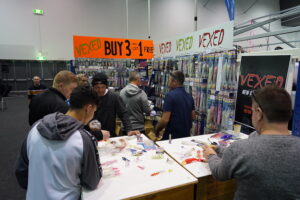 The Club Marine Perth Boat Show is recognised for being the place to go to see all the latest models from major brands. This year there are plenty of releases on display from exhibitors including Westerberg Marine Aluminium Boats, West Coast Boat Works, West Ribs / Gaber Boats, Malibu Boats WA, Razerline, Whittley, Chivers Marine, Aquasports Marine, Genesis Craft, Raymarine, Mandurah Outboards, Hitech Marine and Axopar; with more still to be announced.
This year's Show has plenty of exhibitors displaying the latest in marine accessories and boating related products. Some exhibitors include Steyr Motors Australia / Diverse Engineering (WA) / SWS Pacific, DockPro, DC DECK CO, Quick Gyro Stabilizers, RCR Marine Breakdown, Hyperion Systems and Boat Monster, with more to be announced.
Check the website for the full list of 2023 exhibitors.
Show Special Guest
Legendary Australian cricketer Merv Hughes will be a special guest at the Club Marine Perth Boat Show this year! The colourful former test fast bowler is a keen angler and hosts his own television show on Channel 7 called Merv Hughes Fishing.
Merv will be on the Engel Fishing Stage each day having a chat about his favourite fishing spots in WA. Be sure to come down and say g'day!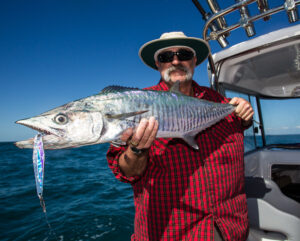 It's an angler's paradise!
The Club Marine Perth Boat Show invites anglers of all ages, with plenty of fishing gear and fishing action on offer! Visit the supersized City Toyota Fishing Zone, located in Pavilion 6 of Perth Convention and Exhibition Centre.
The City Toyota Fishing Zone is a fishing superstore, with all the latest gear at Show Special prices. Check out all the latest gear from 2 Oceans Tackle, Tacklewest and SnapBait Australia, plus displays from City Toyota, Engel, PinkRibbonFishin, Angler's Fishing World and Hunters and Drifters.
The City Toyota Fishing Zone also includes the popular Engel Aquatank Fishing Stage, where visitors can get fishing tips and the latest fishing information from the experts.
This year Perth Boat Show welcomes back their fishing ambassador Mark LeCras, former West Coast Eagle, and star of Channel 7's The 4WD Adventure Show. Mark will join the team from Western Angler on stage to give audiences all the pointers on where to go, what to take, and what you'll catch.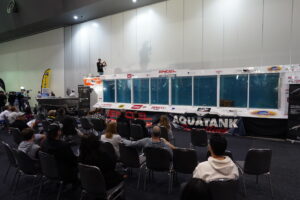 New this year is the Fishing Masterclasses, with a full schedule of topics each day at the Show. Expert presenters will give their tips on subjects including how to use sounders, how to get into spearfishing, choosing the right lures, squidding tips and fishing travel.
And if that's not enough, new this year is the Bream Comp in Elizabeth Quay which is sure to be a spectacle.
West Australian Tournament Anglers are a group of like-minded anglers running a non-profit competitive bream fishing series in WA. They will present a special Bream competition on the Boat Show weekend. Whoever catches the most, wins!
And as always, Perth Boat Show hasn't forgotten about your young anglers with the popular Kid's Casting Competition back again this year. Get kids into fishing, see if they can hit the target and win prizes!
Get into boating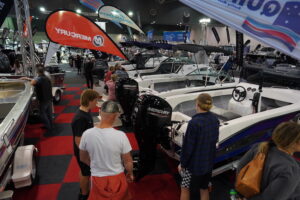 The Boating Industry Association is making it easier for everyone to get into boating, with the option for visitors to do their Recreational Skipper's Ticket test at the Show. Thanks to Australian Sailing, visitors can register to do their theory test at the Show; and then follow this up with their practical test in Elizabeth Quay. Conditions apply, and information and registrations are available at perthboatshow.com.au
For those who are new to boating and want the latest information on regulations and safety, be sure to visit the Maritime and Roads Information Hub with displays from Government and not-for-profit agencies including Royal Life Saving Society WA, Department of Primary Industries and Regional Development, DFES – Marine Services WA, Water Police and ABF and Border Watch, and more to be announced.
Show visitors can get information and join the Boating Industry of WA's "Go Boating Club" at the Show, which was been designed for West Australians to make the most of out of their boats. The Go Boating Club provide boat owners a place to build their confidence on the water with training opportunities offered at BIAWA headquarters at Burswood on Swan. Members are also invited to participate in regular boating events that include river cruises, overnight return trips, day trips to Rottnest Island and many more. Visitors can head to the BIAWA stand at the Show to find out more. Kids can also get into boating with Tackers sailing offered as a free activity in Elizabeth Quay. Thanks to Australian Sailing, school aged children can test their skills in driving a boat with a qualified instructor giving them tips along the way.

NEW Mega Auction
In 2023, the Boating Industry Association WA is presenting the new Mega Auction for the first time at the Show.
The new Mega Auction is based on the successful auction held each year at the Hutchwilco Boat Show in New Zealand. There will be a range of new gear being auctioned at the show with no reserve prices, with all money raised going directly to Volunteer Marine Rescue.
The full list of auction items will be available on the Show website and on display with Volunteer Marine Rescue on the Friday and Saturday of the Show. The auction will take place at 1pm on Saturday 16 September.
Make sure you're there to put in your bid – with no reserve pricing, you're sure to get a bargain!
Major Prize
Just by being at the 2023 Club Marine Perth Boat Show, you could be zipping around the Swan River this summer on your own Seadoo Spark 2UP thanks to Seadoo Sport and Leisure.
When it comes to all-out fun, nothing beats a Sea-Doo Spark. From splashy looks to nimble, peppy handling, the good times are ready to roll. The light, compact design of a Spark makes it a blast on the water. It's also what makes them effortless to tow with almost any vehicle and easy to store by requiring much less space than a full-size boat.
The Seadoo Spark 2UP could be yours, and comes with a Dunbier trailer. Total prize value is $12,900 and can be won by entering at the Show, or by buying your Show tickets online.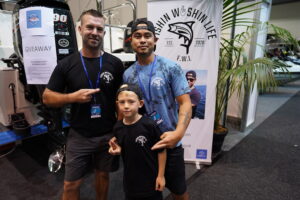 Show facts
The Club Marine Perth Boat Show is open from 9am to 5pm each day on Friday 15th September, Saturday 16th September and Sunday 17th September 2023. The Show is located at Perth Convention and Exhibition Centre, plus follow the signs to displays and activity in Elizabeth Quay.
Click here to buy tickets!
For more information visit perthboatshow.com.au
To keep up to date with all marine industry news visit www.marinebusinessnews.com.au